Are you traveling to Asia? Then you should definitely not travel without an Internet connection. Whether it's a personal trip or a business trip to Asia, you should not travel without mobile internet.
There are several options to connect to the Internet in Asia, however, an eSIM is our clear recommendation. In this article we compare different Asia eSIMs.
💡 Click here to see the eSIM comparison table

We will advise you on your choice of the best eSIM Asia, so that you can always travel connected while on vacation. We pay attention to price, duration, data volume, service, technical support & more.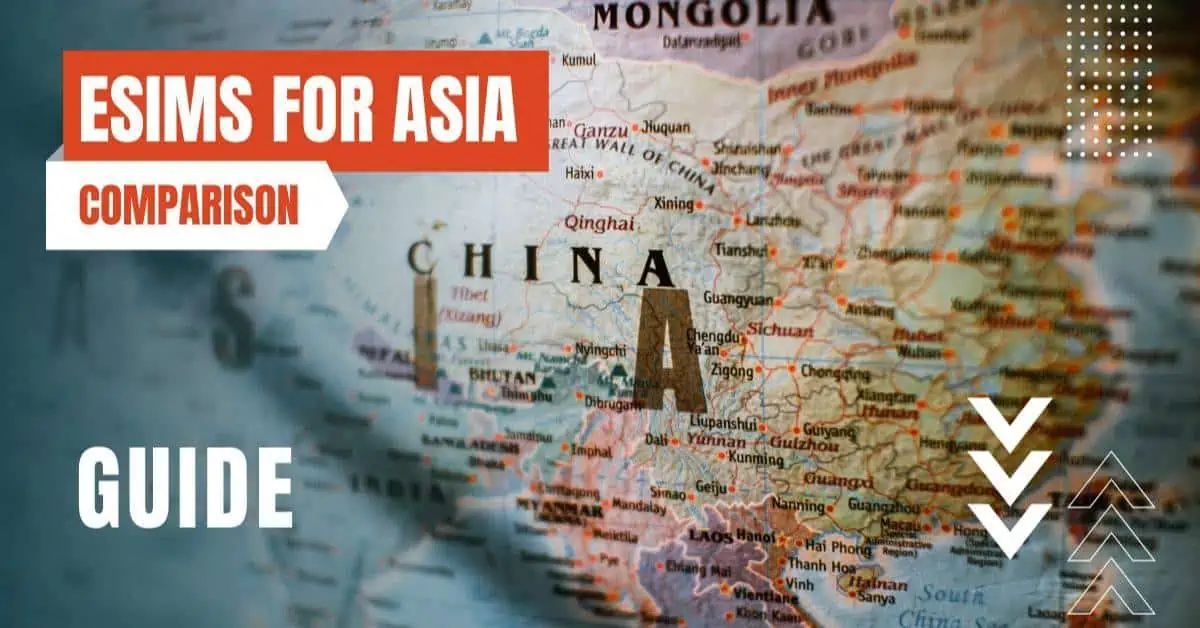 The eSIM is a new form of the traditional SIM card that we use every day. What makes it special is that the SIM chip is already built into the new smartphones. It is also called an "embedded" SIM, which is where the "e" of eSIM comes from. By integrating the chip inside the phone, it is possible to virtually activate the desired data tariffs.
There are two different ways to do this, either you manage the data rates with the help of an app that serves as a SIM card manager. Or you scan a QR code and the data device activates itself.
Advantages of an eSIM for Asia
The eSIM offers various advantages over the normal SIM card that you may not have thought of before. These include, for example:
Greener: Protect the environment by buying an eSIM. Eliminate plastic cards, paper for packaging and CO2 emissions during shipping.
Save time: Because the delivery is done by email, you save time waiting for the delivery or standing in line at the store. After two clicks you have your eSIM.
Availability: By getting your eSIM from the online store, you are free to buy your eSIM from anywhere in the world at any time, even if you are already in Asia.
How do I activate the eSIM with data plan for Asia?
We were really surprised how easy it was to use. People are sometimes a bit cautious with new technologies, but with the eSIM, you definitely don't need to be. It's actually as easy as everyone always says it is.
If you get the data plan in the form of a QR code, then at the appropriate time you go to your settings app on your phone. There, a camera will open up under the "Add Data Plan" section. After scanning, you label the new eSIM for Asia and select this "profile" as active.
The steps follow one after the other and you are automatically and self-explanatory redirected. Anyone can do this, even those who are not particularly technically experienced. In addition, with most eSIM providers, step-by-step instructions are also added to your email.
What do I have to consider when buying a Asia eSIM?
To avoid problems later on when using your eSIM Asia, it is important that you check the compatibility of your device and the product variant before buying.
Because the eSIM is a very new product, it does not work with all phone models. Only the newer smartphones have the new dual eSIM technologies. So that you don't end up without data in Asia, you should check compatibility before you buy. We simply checked the list of compatible smartphones on the eSIM provider's websites. You will actually find all the information you need there.
Which eSIM package should you choose?
You should get an overview of how much data you use on average in advance to be able to estimate which data plan is right for you. We know friends who need significantly more data volume on vacation than at home. This can happen quickly when you want to share your new experiences on Instagram from the road or Google many sights during the city tour to learn more about the history.
However, especially on vacation, you sometimes want to sit in front of screens less, which is why you consciously put your phone away. For this reason, you must first empathize with yourself and think about what you want to use the map for. If you have difficulties, you can also ask experts for advice or look for suitable articles that explain exactly how you can estimate your data consumption.
Click on the green speech bubble & let us know in the comments if you have any questions!
Below you see a curated list of providers that offer eSIMs for Asiaat an affordable price with a reliable internet service in Asia.
Provider
eSIM Profile
Data
Validity
Price/GB
Price
Phone Number
Coverage
asdf
Continent
BNESIM Afghanistan 10GB
10
30
26.64
266.41
Not included
🇦🇫 Afghanistan
🇦🇫 Afghanistan
Asia
BNESIM Afghanistan 5GB
5
1
29.97
149.84
Not included
🇦🇫 Afghanistan
🇦🇫 Afghanistan
Asia
BNESIM Afghanistan 5GB
5
30
27.83
139.14
Not included
🇦🇫 Afghanistan
🇦🇫 Afghanistan
Asia
BNESIM Afghanistan 3GB
3
1
30.93
92.79
Not included
🇦🇫 Afghanistan
🇦🇫 Afghanistan
Asia
BNESIM Afghanistan 3GB
3
30
28.72
86.16
Not included
🇦🇫 Afghanistan
🇦🇫 Afghanistan
Asia
BNESIM Afghanistan 1GB
1
1
31.88
31.88
Not included
🇦🇫 Afghanistan
🇦🇫 Afghanistan
Asia
BNESIM Afghanistan 1GB
1
30
29.60
29.60
Not included
🇦🇫 Afghanistan
🇦🇫 Afghanistan
Asia
BNESIM Armenia 10GB
10
30
6.44
64.35
Not included
🇦🇲 Armenia
🇦🇲 Armenia
Asia
BNESIM Armenia 5GB
5
1
7.24
36.19
Not included
🇦🇲 Armenia
🇦🇲 Armenia
Asia
BNESIM Armenia 5GB
5
30
6.72
33.61
Not included
🇦🇲 Armenia
🇦🇲 Armenia
Asia
BNESIM Armenia 3GB
3
1
7.47
22.41
Not included
🇦🇲 Armenia
🇦🇲 Armenia
Asia
BNESIM Armenia 3GB
3
30
6.94
20.81
Not included
🇦🇲 Armenia
🇦🇲 Armenia
Asia
BNESIM Armenia 1GB
1
1
7.70
7.70
Not included
🇦🇲 Armenia
🇦🇲 Armenia
Asia
BNESIM Armenia 1GB
1
30
7.15
7.15
Not included
🇦🇲 Armenia
🇦🇲 Armenia
Asia
BNESIM Armenia 100GB
100
30
4.46
446.16
Not included
🇦🇲 Armenia
🇦🇲 Armenia
Asia
BNESIM Armenia 50GB
50
30
5.41
270.27
Not included
🇦🇲 Armenia
🇦🇲 Armenia
Asia
BNESIM Armenia 20GB
20
30
6.29
125.84
Not included
🇦🇲 Armenia
🇦🇲 Armenia
Asia
BNESIM Azerbaijan 10GB
10
30
8.88
88.80
Not included
🇦🇿 Azerbaijan
🇦🇿 Azerbaijan
Asia
BNESIM Azerbaijan 5GB
5
1
9.99
49.97
Not included
🇦🇿 Azerbaijan
🇦🇿 Azerbaijan
Asia
BNESIM Azerbaijan 5GB
5
30
9.28
46.41
Not included
🇦🇿 Azerbaijan
🇦🇿 Azerbaijan
Asia
BNESIM Azerbaijan 3GB
3
1
10.32
30.95
Not included
🇦🇿 Azerbaijan
🇦🇿 Azerbaijan
Asia
BNESIM Azerbaijan 3GB
3
30
9.58
28.74
Not included
🇦🇿 Azerbaijan
🇦🇿 Azerbaijan
Asia
BNESIM Azerbaijan 1GB
1
1
10.63
10.63
Not included
🇦🇿 Azerbaijan
🇦🇿 Azerbaijan
Asia
BNESIM Azerbaijan 1GB
1
30
9.87
9.87
Not included
🇦🇿 Azerbaijan
🇦🇿 Azerbaijan
Asia
BNESIM Azerbaijan 50GB
50
30
7.46
372.98
Not included
🇦🇿 Azerbaijan
🇦🇿 Azerbaijan
Asia
BNESIM Azerbaijan 20GB
20
30
8.68
173.68
Not included
🇦🇿 Azerbaijan
🇦🇿 Azerbaijan
Asia
BNESIM Bangladesh 10GB
10
30
3.60
36.04
Not included
🇧🇩 Bangladesh
🇧🇩 Bangladesh
Asia
BNESIM Bangladesh 5GB
5
1
4.05
20.25
Not included
🇧🇩 Bangladesh
🇧🇩 Bangladesh
Asia
BNESIM Bangladesh 5GB
5
30
3.76
18.81
Not included
🇧🇩 Bangladesh
🇧🇩 Bangladesh
Asia
BNESIM Bangladesh 3GB
3
1
4.18
12.55
Not included
🇧🇩 Bangladesh
🇧🇩 Bangladesh
Asia
BNESIM Bangladesh 3GB
3
30
3.89
11.66
Not included
🇧🇩 Bangladesh
🇧🇩 Bangladesh
Asia
BNESIM Bangladesh 1GB
1
1
4.31
4.31
Not included
🇧🇩 Bangladesh
🇧🇩 Bangladesh
Asia
BNESIM Bangladesh 1GB
1
30
4.00
4.00
Not included
🇧🇩 Bangladesh
🇧🇩 Bangladesh
Asia
BNESIM Bangladesh 100GB
100
30
2.50
249.85
Not included
🇧🇩 Bangladesh
🇧🇩 Bangladesh
Asia
BNESIM Bangladesh 50GB
50
30
3.03
151.35
Not included
🇧🇩 Bangladesh
🇧🇩 Bangladesh
Asia
BNESIM Bangladesh 20GB
20
30
3.52
70.50
Not included
🇧🇩 Bangladesh
🇧🇩 Bangladesh
Asia
BNESIM Bhutan 20GB
20
30
13.97
279.36
Not included
🇧🇹 Bhutan
🇧🇹 Bhutan
Asia
BNESIM Bhutan 10GB
10
30
14.29
142.86
Not included
🇧🇹 Bhutan
🇧🇹 Bhutan
Asia
BNESIM Bhutan 5GB
5
1
16.06
80.31
Not included
🇧🇹 Bhutan
🇧🇹 Bhutan
Asia
BNESIM Bhutan 5GB
5
30
14.92
74.58
Not included
🇧🇹 Bhutan
🇧🇹 Bhutan
Asia
BNESIM Bhutan 3GB
3
1
16.58
49.74
Not included
🇧🇹 Bhutan
🇧🇹 Bhutan
Asia
BNESIM Bhutan 3GB
3
30
15.40
46.19
Not included
🇧🇹 Bhutan
🇧🇹 Bhutan
Asia
BNESIM Bhutan 1GB
1
1
17.09
17.09
Not included
🇧🇹 Bhutan
🇧🇹 Bhutan
Asia
BNESIM Bhutan 1GB
1
30
15.87
15.87
Not included
🇧🇹 Bhutan
🇧🇹 Bhutan
Asia
BNESIM China 10GB
10
30
5.41
54.05
Not included
🇨🇳 China
🇨🇳 China
Asia
BNESIM China 5GB
5
1
6.08
30.42
Not included
🇨🇳 China
🇨🇳 China
Asia
BNESIM China 5GB
5
30
5.65
28.25
Not included
🇨🇳 China
🇨🇳 China
Asia
BNESIM China 3GB
3
1
6.26
18.79
Not included
🇨🇳 China
🇨🇳 China
Asia
BNESIM China 3GB
3
30
5.82
17.45
Not included
🇨🇳 China
🇨🇳 China
Asia
BNESIM China 1GB
1
1
6.47
6.47
Not included
🇨🇳 China
🇨🇳 China
Asia
BNESIM China 1GB
1
30
6.01
6.01
Not included
🇨🇳 China
🇨🇳 China
Asia
BNESIM China 100GB
100
30
3.75
374.77
Not included
🇨🇳 China
🇨🇳 China
Asia
BNESIM China 50GB
50
30
4.54
227.03
Not included
🇨🇳 China
🇨🇳 China
Asia
BNESIM China 20GB
20
30
5.28
105.68
Not included
🇨🇳 China
🇨🇳 China
Asia
BNESIM Georgia 10GB
10
30
4.25
42.47
Not included
🇬🇪 Georgia
🇬🇪 Georgia
Asia
BNESIM Georgia 5GB
5
1
4.77
23.87
Not included
🇬🇪 Georgia
🇬🇪 Georgia
Asia
BNESIM Georgia 5GB
5
30
4.43
22.17
Not included
🇬🇪 Georgia
🇬🇪 Georgia
Asia
BNESIM Georgia 3GB
3
1
4.93
14.78
Not included
🇬🇪 Georgia
🇬🇪 Georgia
Asia
BNESIM Georgia 3GB
3
30
4.58
13.73
Not included
🇬🇪 Georgia
🇬🇪 Georgia
Asia
BNESIM Georgia 1GB
1
1
5.08
5.08
Not included
🇬🇪 Georgia
🇬🇪 Georgia
Asia
BNESIM Georgia 1GB
1
30
4.72
4.72
Not included
🇬🇪 Georgia
🇬🇪 Georgia
Asia
BNESIM Georgia 100GB
100
30
2.94
294.47
Not included
🇬🇪 Georgia
🇬🇪 Georgia
Asia
BNESIM Georgia 50GB
50
30
3.57
178.38
Not included
🇬🇪 Georgia
🇬🇪 Georgia
Asia
BNESIM Georgia 20GB
20
30
4.15
83.08
Not included
🇬🇪 Georgia
🇬🇪 Georgia
Asia
BNESIM Hong Kong 1GB
1
7
4.60
4.60
Not included
🇭🇰 Hong Kong
🇭🇰 Hong Kong
Asia
BNESIM Hong Kong 3GB
3
30
3.83
11.50
Not included
🇭🇰 Hong Kong
🇭🇰 Hong Kong
Asia
BNESIM Hong Kong 5GB
5
30
3.59
17.97
Not included
🇭🇰 Hong Kong
🇭🇰 Hong Kong
Asia
BNESIM Hong Kong 10GB
10
30
3.14
31.35
Not included
🇭🇰 Hong Kong
🇭🇰 Hong Kong
Asia
BNESIM Hong Kong 20GB
20
30
2.77
55.39
Not included
🇭🇰 Hong Kong
🇭🇰 Hong Kong
Asia
BNESIM India 10GB
10
30
7.85
78.51
Not included
🇮🇳 India
🇮🇳 India
Asia
BNESIM India 5GB
5
1
8.82
44.12
Not included
🇮🇳 India
🇮🇳 India
Asia
BNESIM India 5GB
5
30
8.20
40.98
Not included
🇮🇳 India
🇮🇳 India
Asia
BNESIM India 3GB
3
1
9.11
27.34
Not included
🇮🇳 India
🇮🇳 India
Asia
BNESIM India 3GB
3
30
8.46
25.39
Not included
🇮🇳 India
🇮🇳 India
Asia
BNESIM India 1GB
1
1
9.39
9.39
Not included
🇮🇳 India
🇮🇳 India
Asia
BNESIM India 1GB
1
30
8.72
8.72
Not included
🇮🇳 India
🇮🇳 India
Asia
BNESIM India 50GB
50
30
6.59
329.73
Not included
🇮🇳 India
🇮🇳 India
Asia
BNESIM India 20GB
20
30
7.68
153.52
Not included
🇮🇳 India
🇮🇳 India
Asia
BNESIM Japan 20GB
20
30
6.01
120.18
Not included
🇯🇵 Japan
🇯🇵 Japan
Asia
BNESIM Japan 1GB
1
7
10.03
10.03
Not included
🇯🇵 Japan
🇯🇵 Japan
Asia
BNESIM Japan 3GB
3
30
8.43
25.29
Not included
🇯🇵 Japan
🇯🇵 Japan
Asia
BNESIM Japan 5GB
5
30
7.69
38.46
Not included
🇯🇵 Japan
🇯🇵 Japan
Asia
BNESIM Japan 10GB
10
30
6.73
67.30
Not included
🇯🇵 Japan
🇯🇵 Japan
Asia
BNESIM Kazakhstan 20GB
20
30
3.12
62.49
Not included
🇰🇿 Kazakhstan
🇰🇿 Kazakhstan
Asia
BNESIM Kazakhstan 1GB
1
7
5.23
5.23
Not included
🇰🇿 Kazakhstan
🇰🇿 Kazakhstan
Asia
BNESIM Kazakhstan 3GB
3
30
4.39
13.17
Not included
🇰🇿 Kazakhstan
🇰🇿 Kazakhstan
Asia
BNESIM Kazakhstan 5GB
5
30
4.10
20.48
Not included
🇰🇿 Kazakhstan
🇰🇿 Kazakhstan
Asia
BNESIM Kazakhstan 10GB
10
30
3.62
36.16
Not included
🇰🇿 Kazakhstan
🇰🇿 Kazakhstan
Asia
BNESIM Kyrgyzstan 100GB
100
30
2.94
294.47
Not included
🇰🇬 Kyrgyzstan
🇰🇬 Kyrgyzstan
Asia
BNESIM Kyrgyzstan 50GB
50
30
3.57
178.38
Not included
🇰🇬 Kyrgyzstan
🇰🇬 Kyrgyzstan
Asia
BNESIM Kyrgyzstan 20GB
20
30
4.15
83.08
Not included
🇰🇬 Kyrgyzstan
🇰🇬 Kyrgyzstan
Asia
BNESIM Kyrgyzstan 10GB
10
30
4.25
42.47
Not included
🇰🇬 Kyrgyzstan
🇰🇬 Kyrgyzstan
Asia
BNESIM Kyrgyzstan 5GB
5
1
4.77
23.87
Not included
🇰🇬 Kyrgyzstan
🇰🇬 Kyrgyzstan
Asia
BNESIM Kyrgyzstan 5GB
5
30
4.43
22.17
Not included
🇰🇬 Kyrgyzstan
🇰🇬 Kyrgyzstan
Asia
BNESIM Kyrgyzstan 3GB
3
1
4.93
14.78
Not included
🇰🇬 Kyrgyzstan
🇰🇬 Kyrgyzstan
Asia
BNESIM Kyrgyzstan 3GB
3
30
4.58
13.73
Not included
🇰🇬 Kyrgyzstan
🇰🇬 Kyrgyzstan
Asia
BNESIM Kyrgyzstan 1GB
1
1
5.08
5.08
Not included
🇰🇬 Kyrgyzstan
🇰🇬 Kyrgyzstan
Asia
BNESIM Kyrgyzstan 1GB
1
30
4.72
4.72
Not included
🇰🇬 Kyrgyzstan
🇰🇬 Kyrgyzstan
Asia
BNESIM Macao 20GB
20
30
2.77
55.39
Not included
🇲🇴 Macau
🇲🇴 Macau
Asia
BNESIM Macao 1GB
1
7
4.60
4.60
Not included
🇲🇴 Macau
🇲🇴 Macau
Asia
BNESIM Macao 3GB
3
30
3.83
11.50
Not included
🇲🇴 Macau
🇲🇴 Macau
Asia
BNESIM Macao 5GB
5
30
3.59
17.97
Not included
🇲🇴 Macau
🇲🇴 Macau
Asia
BNESIM Macao 10GB
10
30
3.14
31.35
Not included
🇲🇴 Macau
🇲🇴 Macau
Asia
BNESIM Mongolia 10GB
10
30
15.57
155.73
Not included
🇲🇳 Mongolia
🇲🇳 Mongolia
Asia
BNESIM Mongolia 5GB
5
1
17.51
87.55
Not included
🇲🇳 Mongolia
🇲🇳 Mongolia
Asia
BNESIM Mongolia 5GB
5
30
16.26
81.30
Not included
🇲🇳 Mongolia
🇲🇳 Mongolia
Asia
BNESIM Mongolia 3GB
3
1
18.07
54.21
Not included
🇲🇳 Mongolia
🇲🇳 Mongolia
Asia
BNESIM Mongolia 3GB
3
30
16.78
50.34
Not included
🇲🇳 Mongolia
🇲🇳 Mongolia
Asia
BNESIM Mongolia 1GB
1
1
18.63
18.63
Not included
🇲🇳 Mongolia
🇲🇳 Mongolia
Asia
BNESIM Mongolia 1GB
1
30
17.30
17.30
Not included
🇲🇳 Mongolia
🇲🇳 Mongolia
Asia
BNESIM Mongolia 20GB
20
30
15.23
304.52
Not included
🇲🇳 Mongolia
🇲🇳 Mongolia
Asia
BNESIM Nepal 10GB
10
30
26.64
266.41
Not included
🇳🇵 Nepal
🇳🇵 Nepal
Asia
BNESIM Nepal 5GB
5
1
29.97
149.84
Not included
🇳🇵 Nepal
🇳🇵 Nepal
Asia
BNESIM Nepal 5GB
5
30
27.83
139.14
Not included
🇳🇵 Nepal
🇳🇵 Nepal
Asia
BNESIM Nepal 3GB
3
1
30.93
92.79
Not included
🇳🇵 Nepal
🇳🇵 Nepal
Asia
BNESIM Nepal 3GB
3
30
28.72
86.16
Not included
🇳🇵 Nepal
🇳🇵 Nepal
Asia
BNESIM Nepal 1GB
1
1
31.88
31.88
Not included
🇳🇵 Nepal
🇳🇵 Nepal
Asia
BNESIM Nepal 1GB
1
30
29.60
29.60
Not included
🇳🇵 Nepal
🇳🇵 Nepal
Asia
BNESIM Pakistan 20GB
20
30
3.12
62.49
Not included
🇵🇰 Pakistan
🇵🇰 Pakistan
Asia
BNESIM Pakistan 1GB
1
7
5.23
5.23
Not included
🇵🇰 Pakistan
🇵🇰 Pakistan
Asia
BNESIM Pakistan 3GB
3
30
4.39
13.17
Not included
🇵🇰 Pakistan
🇵🇰 Pakistan
Asia
BNESIM Pakistan 5GB
5
30
4.10
20.48
Not included
🇵🇰 Pakistan
🇵🇰 Pakistan
Asia
BNESIM Pakistan 10GB
10
30
3.62
36.16
Not included
🇵🇰 Pakistan
🇵🇰 Pakistan
Asia
BNESIM South Korea 10GB
10
30
3.60
36.04
Not included
🇰🇷 South Korea
🇰🇷 South Korea
Asia
BNESIM South Korea 5GB
5
1
4.05
20.25
Not included
🇰🇷 South Korea
🇰🇷 South Korea
Asia
BNESIM South Korea 5GB
5
30
3.76
18.81
Not included
🇰🇷 South Korea
🇰🇷 South Korea
Asia
BNESIM South Korea 3GB
3
1
4.18
12.55
Not included
🇰🇷 South Korea
🇰🇷 South Korea
Asia
BNESIM South Korea 3GB
3
30
3.89
11.66
Not included
🇰🇷 South Korea
🇰🇷 South Korea
Asia
BNESIM South Korea 1GB
1
1
4.31
4.31
Not included
🇰🇷 South Korea
🇰🇷 South Korea
Asia
BNESIM South Korea 1GB
1
30
4.00
4.00
Not included
🇰🇷 South Korea
🇰🇷 South Korea
Asia
BNESIM South Korea 100GB
100
30
2.50
249.85
Not included
🇰🇷 South Korea
🇰🇷 South Korea
Asia
BNESIM South Korea 50GB
50
30
3.03
151.35
Not included
🇰🇷 South Korea
🇰🇷 South Korea
Asia
BNESIM South Korea 20GB
20
30
3.52
70.50
Not included
🇰🇷 South Korea
🇰🇷 South Korea
Asia
BNESIM Sri Lanka 20GB
20
30
3.12
62.49
Not included
🇱🇰 Sri Lanka
🇱🇰 Sri Lanka
Asia
BNESIM Sri Lanka 1GB
1
7
5.23
5.23
Not included
🇱🇰 Sri Lanka
🇱🇰 Sri Lanka
Asia
BNESIM Sri Lanka 3GB
3
30
4.39
13.17
Not included
🇱🇰 Sri Lanka
🇱🇰 Sri Lanka
Asia
BNESIM Sri Lanka 5GB
5
30
4.10
20.48
Not included
🇱🇰 Sri Lanka
🇱🇰 Sri Lanka
Asia
BNESIM Sri Lanka 10GB
10
30
3.62
36.16
Not included
🇱🇰 Sri Lanka
🇱🇰 Sri Lanka
Asia
BNESIM Taiwan, Province Of China 10GB
10
30
3.60
36.04
Not included
🇹🇼 Taiwan
🇹🇼 Taiwan
Asia
BNESIM Taiwan, Province Of China 5GB
5
1
4.05
20.25
Not included
🇹🇼 Taiwan
🇹🇼 Taiwan
Asia
BNESIM Taiwan, Province Of China 5GB
5
30
3.76
18.81
Not included
🇹🇼 Taiwan
🇹🇼 Taiwan
Asia
BNESIM Taiwan, Province Of China 3GB
3
1
4.18
12.55
Not included
🇹🇼 Taiwan
🇹🇼 Taiwan
Asia
BNESIM Taiwan, Province Of China 3GB
3
30
3.89
11.66
Not included
🇹🇼 Taiwan
🇹🇼 Taiwan
Asia
BNESIM Taiwan, Province Of China 1GB
1
1
4.31
4.31
Not included
🇹🇼 Taiwan
🇹🇼 Taiwan
Asia
BNESIM Taiwan, Province Of China 1GB
1
30
4.00
4.00
Not included
🇹🇼 Taiwan
🇹🇼 Taiwan
Asia
BNESIM Taiwan, Province Of China 100GB
100
30
2.50
249.85
Not included
🇹🇼 Taiwan
🇹🇼 Taiwan
Asia
BNESIM Taiwan, Province Of China 50GB
50
30
3.03
151.35
Not included
🇹🇼 Taiwan
🇹🇼 Taiwan
Asia
BNESIM Taiwan, Province Of China 20GB
20
30
3.52
70.50
Not included
🇹🇼 Taiwan
🇹🇼 Taiwan
Asia
BNESIM Tajikistan 10GB
10
30
9.46
94.60
Not included
🇹🇯 Tajikistan
🇹🇯 Tajikistan
Asia
BNESIM Tajikistan 5GB
5
1
10.64
53.21
Not included
🇹🇯 Tajikistan
🇹🇯 Tajikistan
Asia
BNESIM Tajikistan 5GB
5
30
9.88
49.41
Not included
🇹🇯 Tajikistan
🇹🇯 Tajikistan
Asia
BNESIM Tajikistan 3GB
3
1
10.99
32.96
Not included
🇹🇯 Tajikistan
🇹🇯 Tajikistan
Asia
BNESIM Tajikistan 3GB
3
30
10.20
30.60
Not included
🇹🇯 Tajikistan
🇹🇯 Tajikistan
Asia
BNESIM Tajikistan 1GB
1
1
11.32
11.32
Not included
🇹🇯 Tajikistan
🇹🇯 Tajikistan
Asia
BNESIM Tajikistan 1GB
1
30
10.52
10.52
Not included
🇹🇯 Tajikistan
🇹🇯 Tajikistan
Asia
BNESIM Tajikistan 50GB
50
30
7.95
397.30
Not included
🇹🇯 Tajikistan
🇹🇯 Tajikistan
Asia
BNESIM Tajikistan 20GB
20
30
9.25
184.98
Not included
🇹🇯 Tajikistan
🇹🇯 Tajikistan
Asia
BNESIM Uzbekistan 20GB
20
30
3.12
62.49
Not included
🇺🇿 Uzbekistan
🇺🇿 Uzbekistan
Asia
BNESIM Uzbekistan 1GB
1
7
5.23
5.23
Not included
🇺🇿 Uzbekistan
🇺🇿 Uzbekistan
Asia
BNESIM Uzbekistan 3GB
3
30
4.39
13.17
Not included
🇺🇿 Uzbekistan
🇺🇿 Uzbekistan
Asia
BNESIM Uzbekistan 5GB
5
30
4.10
20.48
Not included
🇺🇿 Uzbekistan
🇺🇿 Uzbekistan
Asia
BNESIM Uzbekistan 10GB
10
30
3.62
36.16
Not included
🇺🇿 Uzbekistan
🇺🇿 Uzbekistan
Asia
Afghanistan
15
5
3.27
49.00
Yes
🇦🇫 Afghanistan
🇦🇫 Afghanistan
Asia
Afghanistan
5
21
4.00
20.00
Yes
🇦🇫 Afghanistan
🇦🇫 Afghanistan
Asia
Afghanistan
10
30
3.30
33.00
Yes
🇦🇫 Afghanistan
🇦🇫 Afghanistan
Asia
Afghanistan
20
30
2.95
59.00
Yes
🇦🇫 Afghanistan
🇦🇫 Afghanistan
Asia
Afghanistan
1
7
8.00
8.00
Yes
🇦🇫 Afghanistan
🇦🇫 Afghanistan
Asia
Afghanistan
2
10
7.00
14.00
Yes
🇦🇫 Afghanistan
🇦🇫 Afghanistan
Asia
Afghanistan
3
14
6.33
19.00
Yes
🇦🇫 Afghanistan
🇦🇫 Afghanistan
Asia
Armenia
15
5
2.53
38.00
Yes
🇦🇲 Armenia
🇦🇲 Armenia
Asia
Armenia
20
30
2.30
46.00
Yes
🇦🇲 Armenia
🇦🇲 Armenia
Asia
Armenia
1
7
7.00
7.00
Yes
🇦🇲 Armenia
🇦🇲 Armenia
Asia
Armenia
2
10
5.50
11.00
Yes
🇦🇲 Armenia
🇦🇲 Armenia
Asia
Armenia
3
14
4.00
12.00
Yes
🇦🇲 Armenia
🇦🇲 Armenia
Asia
Armenia
5
21
3.00
15.00
Yes
🇦🇲 Armenia
🇦🇲 Armenia
Asia
Armenia
10
30
2.60
26.00
Yes
🇦🇲 Armenia
🇦🇲 Armenia
Asia
Azerbaijan
1
7
15.00
15.00
Yes
🇦🇿 Azerbaijan
🇦🇿 Azerbaijan
Asia
Azerbaijan
2
10
11.50
23.00
Yes
🇦🇿 Azerbaijan
🇦🇿 Azerbaijan
Asia
Azerbaijan
3
14
9.00
27.00
Yes
🇦🇿 Azerbaijan
🇦🇿 Azerbaijan
Asia
Azerbaijan
5
21
6.60
33.00
Yes
🇦🇿 Azerbaijan
🇦🇿 Azerbaijan
Asia
Azerbaijan
10
30
5.50
55.00
Yes
🇦🇿 Azerbaijan
🇦🇿 Azerbaijan
Asia
Azerbaijan
15
5
5.47
82.00
Yes
🇦🇿 Azerbaijan
🇦🇿 Azerbaijan
Asia
Azerbaijan
20
30
4.90
98.00
Yes
🇦🇿 Azerbaijan
🇦🇿 Azerbaijan
Asia
Bangladesh
3
14
3.00
9.00
Yes
🇧🇩 Bangladesh
🇧🇩 Bangladesh
Asia
Bangladesh
5
21
2.20
11.00
Yes
🇧🇩 Bangladesh
🇧🇩 Bangladesh
Asia
Bangladesh
10
30
1.80
18.00
Yes
🇧🇩 Bangladesh
🇧🇩 Bangladesh
Asia
Bangladesh
15
5
1.83
27.50
Yes
🇧🇩 Bangladesh
🇧🇩 Bangladesh
Asia
Bangladesh
20
30
1.65
33.00
Yes
🇧🇩 Bangladesh
🇧🇩 Bangladesh
Asia
Bangladesh
1
7
5.00
5.00
Yes
🇧🇩 Bangladesh
🇧🇩 Bangladesh
Asia
Bangladesh
2
10
3.75
7.50
Yes
🇧🇩 Bangladesh
🇧🇩 Bangladesh
Asia
Bhutan
1
7
15.00
15.00
Yes
🇧🇹 Bhutan
🇧🇹 Bhutan
Asia
Bhutan
2
10
11.50
23.00
Yes
🇧🇹 Bhutan
🇧🇹 Bhutan
Asia
Bhutan
3
14
9.00
27.00
Yes
🇧🇹 Bhutan
🇧🇹 Bhutan
Asia
Bhutan
5
21
6.60
33.00
Yes
🇧🇹 Bhutan
🇧🇹 Bhutan
Asia
Bhutan
10
30
5.50
55.00
Yes
🇧🇹 Bhutan
🇧🇹 Bhutan
Asia
Bhutan
15
5
5.47
82.00
Yes
🇧🇹 Bhutan
🇧🇹 Bhutan
Asia
Bhutan
20
30
4.90
98.00
Yes
🇧🇹 Bhutan
🇧🇹 Bhutan
Asia
Central Asia
1
7
11.00
11.00
Yes
🇦🇫 Afghanistan
🇦🇫 Afghanistan
Asia
Central Asia
1
7
11.00
11.00
Yes
🇦🇲 Armenia
🇦🇲 Armenia
Asia
Central Asia
1
7
11.00
11.00
Yes
🇦🇿 Azerbaijan
🇦🇿 Azerbaijan
Asia
Central Asia
1
7
11.00
11.00
Yes
🇧🇩 Bangladesh
🇧🇩 Bangladesh
Asia
Central Asia
1
7
11.00
11.00
Yes
🇧🇹 Bhutan
🇧🇹 Bhutan
Asia
Central Asia
1
7
11.00
11.00
Yes
🇨🇳 China
🇨🇳 China
Asia
Central Asia
1
7
11.00
11.00
Yes
🇬🇪 Georgia
🇬🇪 Georgia
Asia
Central Asia
1
7
11.00
11.00
Yes
🇰🇿 Kazakhstan
🇰🇿 Kazakhstan
Asia
Central Asia
1
7
11.00
11.00
Yes
🇰🇬 Kyrgyzstan
🇰🇬 Kyrgyzstan
Asia
Central Asia
1
7
11.00
11.00
Yes
🇲🇴 Macau
🇲🇴 Macau
Asia
Central Asia
1
7
11.00
11.00
Yes
🇲🇳 Mongolia
🇲🇳 Mongolia
Asia
Central Asia
1
7
11.00
11.00
Yes
🇱🇰 Sri Lanka
🇱🇰 Sri Lanka
Asia
Central Asia
1
7
11.00
11.00
Yes
🇺🇿 Uzbekistan
🇺🇿 Uzbekistan
Asia
Central Asia
2
10
8.25
16.50
Yes
🇦🇫 Afghanistan
🇦🇫 Afghanistan
Asia
Central Asia
2
10
8.25
16.50
Yes
🇦🇲 Armenia
🇦🇲 Armenia
Asia
Central Asia
2
10
8.25
16.50
Yes
🇦🇿 Azerbaijan
🇦🇿 Azerbaijan
Asia
Central Asia
2
10
8.25
16.50
Yes
🇧🇩 Bangladesh
🇧🇩 Bangladesh
Asia
Central Asia
2
10
8.25
16.50
Yes
🇧🇹 Bhutan
🇧🇹 Bhutan
Asia
Central Asia
2
10
8.25
16.50
Yes
🇨🇳 China
🇨🇳 China
Asia
Central Asia
2
10
8.25
16.50
Yes
🇬🇪 Georgia
🇬🇪 Georgia
Asia
Central Asia
2
10
8.25
16.50
Yes
🇰🇿 Kazakhstan
🇰🇿 Kazakhstan
Asia
Central Asia
2
10
8.25
16.50
Yes
🇰🇬 Kyrgyzstan
🇰🇬 Kyrgyzstan
Asia
Central Asia
2
10
8.25
16.50
Yes
🇲🇴 Macau
🇲🇴 Macau
Asia
Central Asia
2
10
8.25
16.50
Yes
🇲🇳 Mongolia
🇲🇳 Mongolia
Asia
Central Asia
2
10
8.25
16.50
Yes
🇱🇰 Sri Lanka
🇱🇰 Sri Lanka
Asia
Central Asia
2
10
8.25
16.50
Yes
🇺🇿 Uzbekistan
🇺🇿 Uzbekistan
Asia
Central Asia
3
14
6.67
20.00
Yes
🇦🇫 Afghanistan
🇦🇫 Afghanistan
Asia
Central Asia
3
14
6.67
20.00
Yes
🇦🇲 Armenia
🇦🇲 Armenia
Asia
Central Asia
3
14
6.67
20.00
Yes
🇦🇿 Azerbaijan
🇦🇿 Azerbaijan
Asia
Central Asia
3
14
6.67
20.00
Yes
🇧🇩 Bangladesh
🇧🇩 Bangladesh
Asia
Central Asia
3
14
6.67
20.00
Yes
🇧🇹 Bhutan
🇧🇹 Bhutan
Asia
Central Asia
3
14
6.67
20.00
Yes
🇨🇳 China
🇨🇳 China
Asia
Central Asia
3
14
6.67
20.00
Yes
🇬🇪 Georgia
🇬🇪 Georgia
Asia
Central Asia
3
14
6.67
20.00
Yes
🇰🇿 Kazakhstan
🇰🇿 Kazakhstan
Asia
Central Asia
3
14
6.67
20.00
Yes
🇰🇬 Kyrgyzstan
🇰🇬 Kyrgyzstan
Asia
Central Asia
3
14
6.67
20.00
Yes
🇲🇴 Macau
🇲🇴 Macau
Asia
Central Asia
3
14
6.67
20.00
Yes
🇲🇳 Mongolia
🇲🇳 Mongolia
Asia
Central Asia
3
14
6.67
20.00
Yes
🇱🇰 Sri Lanka
🇱🇰 Sri Lanka
Asia
Central Asia
3
14
6.67
20.00
Yes
🇺🇿 Uzbekistan
🇺🇿 Uzbekistan
Asia
Central Asia
5
21
4.80
24.00
Yes
🇦🇫 Afghanistan
🇦🇫 Afghanistan
Asia
Central Asia
5
21
4.80
24.00
Yes
🇦🇲 Armenia
🇦🇲 Armenia
Asia
Central Asia
5
21
4.80
24.00
Yes
🇦🇿 Azerbaijan
🇦🇿 Azerbaijan
Asia
Central Asia
5
21
4.80
24.00
Yes
🇧🇩 Bangladesh
🇧🇩 Bangladesh
Asia
Central Asia
5
21
4.80
24.00
Yes
🇧🇹 Bhutan
🇧🇹 Bhutan
Asia
Central Asia
5
21
4.80
24.00
Yes
🇨🇳 China
🇨🇳 China
Asia
Central Asia
5
21
4.80
24.00
Yes
🇬🇪 Georgia
🇬🇪 Georgia
Asia
Central Asia
5
21
4.80
24.00
Yes
🇰🇿 Kazakhstan
🇰🇿 Kazakhstan
Asia
Central Asia
5
21
4.80
24.00
Yes
🇰🇬 Kyrgyzstan
🇰🇬 Kyrgyzstan
Asia
Central Asia
5
21
4.80
24.00
Yes
🇲🇴 Macau
🇲🇴 Macau
Asia
Central Asia
5
21
4.80
24.00
Yes
🇲🇳 Mongolia
🇲🇳 Mongolia
Asia
Central Asia
5
21
4.80
24.00
Yes
🇱🇰 Sri Lanka
🇱🇰 Sri Lanka
Asia
Central Asia
5
21
4.80
24.00
Yes
🇺🇿 Uzbekistan
🇺🇿 Uzbekistan
Asia
China
5
21
2.60
13.00
Yes
🇨🇳 China
🇨🇳 China
Asia
China
10
30
2.20
22.00
Yes
🇨🇳 China
🇨🇳 China
Asia
China
15
5
2.20
33.00
Yes
🇨🇳 China
🇨🇳 China
Asia
China
20
30
1.95
39.00
Yes
🇨🇳 China
🇨🇳 China
Asia
China
1
7
6.00
6.00
Yes
🇨🇳 China
🇨🇳 China
Asia
China
2
10
4.50
9.00
Yes
🇨🇳 China
🇨🇳 China
Asia
China
3
14
3.67
11.00
Yes
🇨🇳 China
🇨🇳 China
Asia
Georgia
5
21
2.20
11.00
Yes
🇬🇪 Georgia
🇬🇪 Georgia
Asia
Georgia
10
30
1.80
18.00
Yes
🇬🇪 Georgia
🇬🇪 Georgia
Asia
Georgia
15
5
1.83
27.50
Yes
🇬🇪 Georgia
🇬🇪 Georgia
Asia
Georgia
20
30
1.65
33.00
Yes
🇬🇪 Georgia
🇬🇪 Georgia
Asia
Georgia
1
7
5.00
5.00
Yes
🇬🇪 Georgia
🇬🇪 Georgia
Asia
Georgia
2
10
3.75
7.50
Yes
🇬🇪 Georgia
🇬🇪 Georgia
Asia
Georgia
3
14
3.00
9.00
Yes
🇬🇪 Georgia
🇬🇪 Georgia
Asia
Hong Kong
15
5
1.83
27.50
Yes
🇭🇰 Hong Kong
🇭🇰 Hong Kong
Asia
Hong Kong
20
30
1.65
33.00
Yes
🇭🇰 Hong Kong
🇭🇰 Hong Kong
Asia
Hong Kong
1
7
5.00
5.00
Yes
🇭🇰 Hong Kong
🇭🇰 Hong Kong
Asia
Hong Kong
2
10
3.75
7.50
Yes
🇭🇰 Hong Kong
🇭🇰 Hong Kong
Asia
Hong Kong
3
14
3.00
9.00
Yes
🇭🇰 Hong Kong
🇭🇰 Hong Kong
Asia
Hong Kong
5
21
2.20
11.00
Yes
🇭🇰 Hong Kong
🇭🇰 Hong Kong
Asia
Hong Kong
10
30
1.80
18.00
Yes
🇭🇰 Hong Kong
🇭🇰 Hong Kong
Asia
India
15
5
4.73
71.00
Yes
🇮🇳 India
🇮🇳 India
Asia
India
1
7
13.00
13.00
Yes
🇮🇳 India
🇮🇳 India
Asia
India
2
10
10.00
20.00
Yes
🇮🇳 India
🇮🇳 India
Asia
India
3
14
7.67
23.00
Yes
🇮🇳 India
🇮🇳 India
Asia
India
5
21
5.80
29.00
Yes
🇮🇳 India
🇮🇳 India
Asia
India
10
30
4.80
48.00
Yes
🇮🇳 India
🇮🇳 India
Asia
India
20
30
4.25
85.00
Yes
🇮🇳 India
🇮🇳 India
Asia
Japan
15
5
4.73
71.00
Yes
🇯🇵 Japan
🇯🇵 Japan
Asia
Japan
20
30
4.25
85.00
Yes
🇯🇵 Japan
🇯🇵 Japan
Asia
Japan
1
7
13.00
13.00
Yes
🇯🇵 Japan
🇯🇵 Japan
Asia
Japan
2
10
10.00
20.00
Yes
🇯🇵 Japan
🇯🇵 Japan
Asia
Japan
3
14
7.67
23.00
Yes
🇯🇵 Japan
🇯🇵 Japan
Asia
Japan
5
21
5.80
29.00
Yes
🇯🇵 Japan
🇯🇵 Japan
Asia
Japan
10
30
4.80
48.00
Yes
🇯🇵 Japan
🇯🇵 Japan
Asia
Kazakhstan
1
7
5.00
5.00
Yes
🇰🇿 Kazakhstan
🇰🇿 Kazakhstan
Asia
Kazakhstan
2
10
3.75
7.50
Yes
🇰🇿 Kazakhstan
🇰🇿 Kazakhstan
Asia
Kazakhstan
3
14
3.00
9.00
Yes
🇰🇿 Kazakhstan
🇰🇿 Kazakhstan
Asia
Kazakhstan
5
21
2.20
11.00
Yes
🇰🇿 Kazakhstan
🇰🇿 Kazakhstan
Asia
Kazakhstan
10
30
1.80
18.00
Yes
🇰🇿 Kazakhstan
🇰🇿 Kazakhstan
Asia
Kazakhstan
15
5
1.83
27.50
Yes
🇰🇿 Kazakhstan
🇰🇿 Kazakhstan
Asia
Kazakhstan
20
30
1.65
33.00
Yes
🇰🇿 Kazakhstan
🇰🇿 Kazakhstan
Asia
Kazakhstan
0
5
6.00
3.00
Yes
🇰🇿 Kazakhstan
🇰🇿 Kazakhstan
Asia
Kyrgyzstan
5
21
3.00
15.00
Yes
🇰🇬 Kyrgyzstan
🇰🇬 Kyrgyzstan
Asia
Kyrgyzstan
10
30
2.60
26.00
Yes
🇰🇬 Kyrgyzstan
🇰🇬 Kyrgyzstan
Asia
Kyrgyzstan
15
5
2.53
38.00
Yes
🇰🇬 Kyrgyzstan
🇰🇬 Kyrgyzstan
Asia
Kyrgyzstan
20
30
2.30
46.00
Yes
🇰🇬 Kyrgyzstan
🇰🇬 Kyrgyzstan
Asia
Kyrgyzstan
1
7
7.00
7.00
Yes
🇰🇬 Kyrgyzstan
🇰🇬 Kyrgyzstan
Asia
Kyrgyzstan
2
10
5.50
11.00
Yes
🇰🇬 Kyrgyzstan
🇰🇬 Kyrgyzstan
Asia
Kyrgyzstan
3
14
4.00
12.00
Yes
🇰🇬 Kyrgyzstan
🇰🇬 Kyrgyzstan
Asia
Macao (China)
15
5
1.83
27.50
Yes
🇲🇴 Macau
🇲🇴 Macau
Asia
Macao (China)
20
30
1.65
33.00
Yes
🇲🇴 Macau
🇲🇴 Macau
Asia
Macao (China)
1
7
5.00
5.00
Yes
🇲🇴 Macau
🇲🇴 Macau
Asia
Macao (China)
2
10
3.75
7.50
Yes
🇲🇴 Macau
🇲🇴 Macau
Asia
Macao (China)
3
14
3.00
9.00
Yes
🇲🇴 Macau
🇲🇴 Macau
Asia
Macao (China)
5
21
2.20
11.00
Yes
🇲🇴 Macau
🇲🇴 Macau
Asia
Macao (China)
10
30
1.80
18.00
Yes
🇲🇴 Macau
🇲🇴 Macau
Asia
Mongolia
15
5
3.27
49.00
Yes
🇲🇳 Mongolia
🇲🇳 Mongolia
Asia
Mongolia
20
30
2.95
59.00
Yes
🇲🇳 Mongolia
🇲🇳 Mongolia
Asia
Mongolia
1
7
9.00
9.00
Yes
🇲🇳 Mongolia
🇲🇳 Mongolia
Asia
Mongolia
2
10
7.00
14.00
Yes
🇲🇳 Mongolia
🇲🇳 Mongolia
Asia
Mongolia
3
14
5.33
16.00
Yes
🇲🇳 Mongolia
🇲🇳 Mongolia
Asia
Mongolia
5
21
4.00
20.00
Yes
🇲🇳 Mongolia
🇲🇳 Mongolia
Asia
Mongolia
10
30
4.90
49.00
Yes
🇲🇳 Mongolia
🇲🇳 Mongolia
Asia
Nepal
3
14
13.67
41.00
Yes
🇳🇵 Nepal
🇳🇵 Nepal
Asia
Nepal
5
21
10.20
51.00
Yes
🇳🇵 Nepal
🇳🇵 Nepal
Asia
Nepal
10
30
8.40
84.00
Yes
🇳🇵 Nepal
🇳🇵 Nepal
Asia
Nepal
15
5
8.40
126.00
Yes
🇳🇵 Nepal
🇳🇵 Nepal
Asia
Nepal
20
30
7.50
150.00
Yes
🇳🇵 Nepal
🇳🇵 Nepal
Asia
Nepal
1
7
23.00
23.00
Yes
🇳🇵 Nepal
🇳🇵 Nepal
Asia
Nepal
2
10
17.00
34.00
Yes
🇳🇵 Nepal
🇳🇵 Nepal
Asia
Pakistan
15
5
2.53
38.00
Yes
🇵🇰 Pakistan
🇵🇰 Pakistan
Asia
Pakistan
20
30
2.30
46.00
Yes
🇵🇰 Pakistan
🇵🇰 Pakistan
Asia
Pakistan
1
7
7.00
7.00
Yes
🇵🇰 Pakistan
🇵🇰 Pakistan
Asia
Pakistan
2
10
5.50
11.00
Yes
🇵🇰 Pakistan
🇵🇰 Pakistan
Asia
Pakistan
3
14
4.00
12.00
Yes
🇵🇰 Pakistan
🇵🇰 Pakistan
Asia
Pakistan
5
21
3.00
15.00
Yes
🇵🇰 Pakistan
🇵🇰 Pakistan
Asia
Pakistan
10
30
2.60
26.00
Yes
🇵🇰 Pakistan
🇵🇰 Pakistan
Asia
South East Asia
1
7
11.00
11.00
Yes
🇯🇵 Japan
🇯🇵 Japan
Asia
South East Asia
1
7
11.00
11.00
Yes
🇰🇷 South Korea
🇰🇷 South Korea
Asia
South East Asia
2
10
8.25
16.50
Yes
🇯🇵 Japan
🇯🇵 Japan
Asia
South East Asia
2
10
8.25
16.50
Yes
🇰🇷 South Korea
🇰🇷 South Korea
Asia
South East Asia
3
14
6.67
20.00
Yes
🇯🇵 Japan
🇯🇵 Japan
Asia
South East Asia
3
14
6.67
20.00
Yes
🇰🇷 South Korea
🇰🇷 South Korea
Asia
South East Asia
5
21
4.80
24.00
Yes
🇯🇵 Japan
🇯🇵 Japan
Asia
South East Asia
5
21
4.80
24.00
Yes
🇰🇷 South Korea
🇰🇷 South Korea
Asia
South Korea
1
7
7.00
7.00
Yes
🇰🇷 South Korea
🇰🇷 South Korea
Asia
South Korea
2
10
5.50
11.00
Yes
🇰🇷 South Korea
🇰🇷 South Korea
Asia
South Korea
3
14
4.00
12.00
Yes
🇰🇷 South Korea
🇰🇷 South Korea
Asia
South Korea
5
21
3.00
15.00
Yes
🇰🇷 South Korea
🇰🇷 South Korea
Asia
South Korea
10
30
2.60
26.00
Yes
🇰🇷 South Korea
🇰🇷 South Korea
Asia
South Korea
15
5
2.53
38.00
Yes
🇰🇷 South Korea
🇰🇷 South Korea
Asia
South Korea
20
30
2.30
46.00
Yes
🇰🇷 South Korea
🇰🇷 South Korea
Asia
South Korea
0
5
6.00
3.00
Yes
🇰🇷 South Korea
🇰🇷 South Korea
Asia
Sri Lanka
3
14
3.00
9.00
Yes
🇱🇰 Sri Lanka
🇱🇰 Sri Lanka
Asia
Sri Lanka
5
21
2.20
11.00
Yes
🇱🇰 Sri Lanka
🇱🇰 Sri Lanka
Asia
Sri Lanka
10
30
1.80
18.00
Yes
🇱🇰 Sri Lanka
🇱🇰 Sri Lanka
Asia
Sri Lanka
15
5
1.83
27.50
Yes
🇱🇰 Sri Lanka
🇱🇰 Sri Lanka
Asia
Sri Lanka
20
30
1.65
33.00
Yes
🇱🇰 Sri Lanka
🇱🇰 Sri Lanka
Asia
Sri Lanka
1
7
5.00
5.00
Yes
🇱🇰 Sri Lanka
🇱🇰 Sri Lanka
Asia
Sri Lanka
2
10
3.75
7.50
Yes
🇱🇰 Sri Lanka
🇱🇰 Sri Lanka
Asia
Taiwan
5
21
2.20
11.00
Yes
🇹🇼 Taiwan
🇹🇼 Taiwan
Asia
Taiwan
10
30
1.80
18.00
Yes
🇹🇼 Taiwan
🇹🇼 Taiwan
Asia
Taiwan
15
5
1.83
27.50
Yes
🇹🇼 Taiwan
🇹🇼 Taiwan
Asia
Taiwan
20
30
1.65
33.00
Yes
🇹🇼 Taiwan
🇹🇼 Taiwan
Asia
Taiwan
1
7
5.00
5.00
Yes
🇹🇼 Taiwan
🇹🇼 Taiwan
Asia
Taiwan
2
10
3.75
7.50
Yes
🇹🇼 Taiwan
🇹🇼 Taiwan
Asia
Taiwan
3
14
3.00
9.00
Yes
🇹🇼 Taiwan
🇹🇼 Taiwan
Asia
Tajikistan
10
30
3.30
33.00
Yes
🇹🇯 Tajikistan
🇹🇯 Tajikistan
Asia
Tajikistan
15
5
3.27
49.00
Yes
🇹🇯 Tajikistan
🇹🇯 Tajikistan
Asia
Tajikistan
20
30
2.95
59.00
Yes
🇹🇯 Tajikistan
🇹🇯 Tajikistan
Asia
Tajikistan
1
7
9.00
9.00
Yes
🇹🇯 Tajikistan
🇹🇯 Tajikistan
Asia
Tajikistan
2
10
7.00
14.00
Yes
🇹🇯 Tajikistan
🇹🇯 Tajikistan
Asia
Tajikistan
3
14
5.33
16.00
Yes
🇹🇯 Tajikistan
🇹🇯 Tajikistan
Asia
Tajikistan
5
21
4.00
20.00
Yes
🇹🇯 Tajikistan
🇹🇯 Tajikistan
Asia
Uzbekistan
10
30
1.80
18.00
Yes
🇺🇿 Uzbekistan
🇺🇿 Uzbekistan
Asia
Uzbekistan
15
5
1.83
27.50
Yes
🇺🇿 Uzbekistan
🇺🇿 Uzbekistan
Asia
Uzbekistan
20
30
1.65
33.00
Yes
🇺🇿 Uzbekistan
🇺🇿 Uzbekistan
Asia
Uzbekistan
1
7
5.00
5.00
Yes
🇺🇿 Uzbekistan
🇺🇿 Uzbekistan
Asia
Uzbekistan
2
10
3.75
7.50
Yes
🇺🇿 Uzbekistan
🇺🇿 Uzbekistan
Asia
Uzbekistan
3
14
3.00
9.00
Yes
🇺🇿 Uzbekistan
🇺🇿 Uzbekistan
Asia
Uzbekistan
5
21
2.20
11.00
Yes
🇺🇿 Uzbekistan
🇺🇿 Uzbekistan
Asia
1GB Data India
1
7
14.00
14.00
Not included
🇮🇳 India
🇮🇳 India
Asia
3GB AF
3
30
46.67
140.00
Not included
🇦🇫 Afghanistan
🇦🇫 Afghanistan
Asia
3GB Data Georgia
3
15
4.00
12.00
Not included
🇬🇪 Georgia
🇬🇪 Georgia
Asia
10GB BD
10
30
19.60
196.00
Not included
🇧🇩 Bangladesh
🇧🇩 Bangladesh
Asia
1GB Data Macao China
1
7
2.50
2.50
Not included
🇲🇴 Macau
🇲🇴 Macau
Asia
1GB Data Afghanistan
1
7
7.50
7.50
Not included
🇦🇫 Afghanistan
🇦🇫 Afghanistan
Asia
10GB KZ
10
30
14.00
140.00
Not included
🇰🇿 Kazakhstan
🇰🇿 Kazakhstan
Asia
3GB Data Macao China
3
15
1.83
5.50
Not included
🇲🇴 Macau
🇲🇴 Macau
Asia
1GB Plan Tajikistan
1
30
70.00
70.00
Not included
🇹🇯 Tajikistan
🇹🇯 Tajikistan
Asia
1GB Plan Pakistan
1
30
45.00
45.00
Not included
🇵🇰 Pakistan
🇵🇰 Pakistan
Asia
1GB Plan Taiwan
1
30
45.00
45.00
Not included
🇹🇼 Taiwan
🇹🇼 Taiwan
Asia
3GB Data Hong Kong (China)
3
15
2.83
8.50
Not included
🇭🇰 Hong Kong
🇭🇰 Hong Kong
Asia
1GB Plan Uzbekistan
1
30
40.00
40.00
Not included
🇺🇿 Uzbekistan
🇺🇿 Uzbekistan
Asia
10GB UZ
10
30
19.70
197.00
Not included
🇺🇿 Uzbekistan
🇺🇿 Uzbekistan
Asia
3GB Data Sri Lanka
3
15
4.67
14.00
Not included
🇱🇰 Sri Lanka
🇱🇰 Sri Lanka
Asia
10GB Data Macao China
10
30
1.80
18.00
Not included
🇲🇴 Macau
🇲🇴 Macau
Asia
3GB Plan Pakistan
3
30
36.00
108.00
Not included
🇵🇰 Pakistan
🇵🇰 Pakistan
Asia
1GB Data Mongolia
1
7
27.00
27.00
Not included
🇲🇳 Mongolia
🇲🇳 Mongolia
Asia
1GB Data Hong Kong (China)
1
7
5.00
5.00
Not included
🇭🇰 Hong Kong
🇭🇰 Hong Kong
Asia
1GB Plan Afghanistan
1
30
70.00
70.00
Not included
🇦🇫 Afghanistan
🇦🇫 Afghanistan
Asia
10GB Data Hong Kong (China)
10
30
1.40
14.00
Not included
🇭🇰 Hong Kong
🇭🇰 Hong Kong
Asia
3GB Plan Taiwan
3
30
30.00
90.00
Not included
🇹🇼 Taiwan
🇹🇼 Taiwan
Asia
3GB TJ
3
30
49.67
149.00
Not included
🇹🇯 Tajikistan
🇹🇯 Tajikistan
Asia
3GB Plan Uzbekistan
3
30
28.33
85.00
Not included
🇺🇿 Uzbekistan
🇺🇿 Uzbekistan
Asia
10GB HK
10
30
12.70
127.00
Not included
🇭🇰 Hong Kong
🇭🇰 Hong Kong
Asia
1GB Plan Bangladesh
1
30
40.00
40.00
Not included
🇧🇩 Bangladesh
🇧🇩 Bangladesh
Asia
1GB Plan Azerbaijan
1
30
60.00
60.00
Not included
🇦🇿 Azerbaijan
🇦🇿 Azerbaijan
Asia
3GB Data Mongolia
3
15
24.00
72.00
Not included
🇲🇳 Mongolia
🇲🇳 Mongolia
Asia
1GB Plan Armenia
1
30
55.00
55.00
Not included
🇦🇲 Armenia
🇦🇲 Armenia
Asia
3GB Plan Georgia
3
30
36.00
108.00
Not included
🇬🇪 Georgia
🇬🇪 Georgia
Asia
1GB Plan Macao China
1
30
20.00
20.00
Not included
🇲🇴 Macau
🇲🇴 Macau
Asia
1GB Plan South Korea
1
30
25.00
25.00
Not included
🇰🇷 South Korea
🇰🇷 South Korea
Asia
3GB Plan Azerbaijan
3
30
56.67
170.00
Not included
🇦🇿 Azerbaijan
🇦🇿 Azerbaijan
Asia
3GB Plan Armenia
3
30
49.00
147.00
Not included
🇦🇲 Armenia
🇦🇲 Armenia
Asia
3GB Plan Hong Kong (China)
3
30
25.67
77.00
Not included
🇭🇰 Hong Kong
🇭🇰 Hong Kong
Asia
3GB Plan Macao China
3
30
14.67
44.00
Not included
🇲🇴 Macau
🇲🇴 Macau
Asia
1GB Plan China
1
30
45.00
45.00
Not included
🇨🇳 China
🇨🇳 China
Asia
10GB MO
10
30
14.40
144.00
Not included
🇲🇴 Macau
🇲🇴 Macau
Asia
3GB Plan South Korea
3
30
19.67
59.00
Not included
🇰🇷 South Korea
🇰🇷 South Korea
Asia
10GB KR
10
30
17.70
177.00
Not included
🇰🇷 South Korea
🇰🇷 South Korea
Asia
1GB Plan Sri Lanka
1
30
60.00
60.00
Not included
🇱🇰 Sri Lanka
🇱🇰 Sri Lanka
Asia
3GB Plan Sri Lanka
3
30
43.33
130.00
Not included
🇱🇰 Sri Lanka
🇱🇰 Sri Lanka
Asia
10GB NP
10
30
18.20
182.00
Not included
🇳🇵 Nepal
🇳🇵 Nepal
Asia
3GB Data Afghanistan
3
15
5.00
15.00
Not included
🇦🇫 Afghanistan
🇦🇫 Afghanistan
Asia
3GB Plan Kyrgyzstan
3
30
53.33
160.00
Not included
🇰🇬 Kyrgyzstan
🇰🇬 Kyrgyzstan
Asia
1GB Data Nepal
1
7
26.00
26.00
Not included
🇳🇵 Nepal
🇳🇵 Nepal
Asia
3GB Plan Bangladesh
3
30
26.67
80.00
Not included
🇧🇩 Bangladesh
🇧🇩 Bangladesh
Asia
10GB TW
10
30
19.80
198.00
Not included
🇹🇼 Taiwan
🇹🇼 Taiwan
Asia
3GB Data Nepal
3
15
19.33
58.00
Not included
🇳🇵 Nepal
🇳🇵 Nepal
Asia
1GB Data Tajikistan
1
7
8.00
8.00
Not included
🇹🇯 Tajikistan
🇹🇯 Tajikistan
Asia
10GB Data Tajikistan
10
30
3.70
37.00
Not included
🇹🇯 Tajikistan
🇹🇯 Tajikistan
Asia
10GB Data Pakistan
10
30
3.00
30.00
Not included
🇵🇰 Pakistan
🇵🇰 Pakistan
Asia
1GB Data South Korea
1
7
3.00
3.00
Not included
🇰🇷 South Korea
🇰🇷 South Korea
Asia
3GB Data South Korea
3
15
2.33
7.00
Not included
🇰🇷 South Korea
🇰🇷 South Korea
Asia
1GB Data Uzbekistan
1
7
4.50
4.50
Not included
🇺🇿 Uzbekistan
🇺🇿 Uzbekistan
Asia
10GB Data South Korea
10
30
2.10
21.00
Not included
🇰🇷 South Korea
🇰🇷 South Korea
Asia
3GB Data Taiwan
3
15
3.33
10.00
Not included
🇹🇼 Taiwan
🇹🇼 Taiwan
Asia
10GB Data Sri Lanka
10
30
4.60
46.00
Not included
🇱🇰 Sri Lanka
🇱🇰 Sri Lanka
Asia
1GB Data Sri Lanka
1
7
6.50
6.50
Not included
🇱🇰 Sri Lanka
🇱🇰 Sri Lanka
Asia
3GB Data Uzbekistan
3
15
3.17
9.50
Not included
🇺🇿 Uzbekistan
🇺🇿 Uzbekistan
Asia
10GB Data Uzbekistan
10
30
2.20
22.00
Not included
🇺🇿 Uzbekistan
🇺🇿 Uzbekistan
Asia
3GB Data Armenia
3
15
5.33
16.00
Not included
🇦🇲 Armenia
🇦🇲 Armenia
Asia
10GB Data Armenia
10
30
4.20
42.00
Not included
🇦🇲 Armenia
🇦🇲 Armenia
Asia
3GB Data Kyrgyzstan
3
15
19.33
58.00
Not included
🇰🇬 Kyrgyzstan
🇰🇬 Kyrgyzstan
Asia
10GB Data Kyrgyzstan
10
30
15.40
154.00
Not included
🇰🇬 Kyrgyzstan
🇰🇬 Kyrgyzstan
Asia
10GB Data Afghanistan
10
30
5.20
52.00
Not included
🇦🇫 Afghanistan
🇦🇫 Afghanistan
Asia
3GB Data Azerbaijan
3
15
16.00
48.00
Not included
🇦🇿 Azerbaijan
🇦🇿 Azerbaijan
Asia
1GB Data Georgia
1
7
5.00
5.00
Not included
🇬🇪 Georgia
🇬🇪 Georgia
Asia
3GB Data India
3
15
11.33
34.00
Not included
🇮🇳 India
🇮🇳 India
Asia
10GB Data India
10
30
5.00
50.00
Not included
🇮🇳 India
🇮🇳 India
Asia
3GB Data Bangladesh
3
15
3.00
9.00
Not included
🇧🇩 Bangladesh
🇧🇩 Bangladesh
Asia
10GB Data Bangladesh
10
30
2.20
22.00
Not included
🇧🇩 Bangladesh
🇧🇩 Bangladesh
Asia
1GB Data China
1
7
5.00
5.00
Not included
🇨🇳 China
🇨🇳 China
Asia
1GB Data Armenia
1
7
6.00
6.00
Not included
🇦🇲 Armenia
🇦🇲 Armenia
Asia
10GB Data Azerbaijan
10
30
16.80
168.00
Not included
🇦🇿 Azerbaijan
🇦🇿 Azerbaijan
Asia
1GB Data Bangladesh
1
7
4.50
4.50
Not included
🇧🇩 Bangladesh
🇧🇩 Bangladesh
Asia
1GB Data Azerbaijan
1
7
24.00
24.00
Not included
🇦🇿 Azerbaijan
🇦🇿 Azerbaijan
Asia
10GB Data Georgia
10
30
3.20
32.00
Not included
🇬🇪 Georgia
🇬🇪 Georgia
Asia
1GB Data Kyrgyzstan
1
7
22.00
22.00
Not included
🇰🇬 Kyrgyzstan
🇰🇬 Kyrgyzstan
Asia
10GB Data China
10
30
2.80
28.00
Not included
🇨🇳 China
🇨🇳 China
Asia
3GB Data China
3
15
4.00
12.00
Not included
🇨🇳 China
🇨🇳 China
Asia
1GB Data Pakistan
1
7
5.00
5.00
Not included
🇵🇰 Pakistan
🇵🇰 Pakistan
Asia
3GB Data Kazakhstan
3
15
2.67
8.00
Not included
🇰🇿 Kazakhstan
🇰🇿 Kazakhstan
Asia
10GB Data Kazakhstan
10
30
1.60
16.00
Not included
🇰🇿 Kazakhstan
🇰🇿 Kazakhstan
Asia
10GB MN
10
30
18.90
189.00
Not included
🇲🇳 Mongolia
🇲🇳 Mongolia
Asia
3GB Data Japan
3
15
9.33
28.00
Not included
🇯🇵 Japan
🇯🇵 Japan
Asia
3GB Data Tajikistan
3
15
5.67
17.00
Not included
🇹🇯 Tajikistan
🇹🇯 Tajikistan
Asia
1GB Data Taiwan
1
7
5.00
5.00
Not included
🇹🇼 Taiwan
🇹🇼 Taiwan
Asia
10GB Data Taiwan
10
30
2.20
22.00
Not included
🇹🇼 Taiwan
🇹🇼 Taiwan
Asia
3GB Data Pakistan
3
15
4.00
12.00
Not included
🇵🇰 Pakistan
🇵🇰 Pakistan
Asia
1GB Data Kazakhstan
1
7
4.00
4.00
Not included
🇰🇿 Kazakhstan
🇰🇿 Kazakhstan
Asia
1GB Data Japan
1
7
15.00
15.00
Not included
🇯🇵 Japan
🇯🇵 Japan
Asia
10GB Data Japan
10
30
6.00
60.00
Not included
🇯🇵 Japan
🇯🇵 Japan
Asia
1GB Plan Kyrgyzstan
1
30
200.00
200.00
Not included
🇰🇬 Kyrgyzstan
🇰🇬 Kyrgyzstan
Asia
3GB CN
3
30
36.00
108.00
Not included
🇨🇳 China
🇨🇳 China
Asia
1GB Plan Georgia
1
30
45.00
45.00
Not included
🇬🇪 Georgia
🇬🇪 Georgia
Asia
1GB Plan Hong Kong (China)
1
30
45.00
45.00
Not included
🇭🇰 Hong Kong
🇭🇰 Hong Kong
Asia
1GB Plan India
1
30
130.00
130.00
Not included
🇮🇳 India
🇮🇳 India
Asia
1GB Plan Japan
1
30
140.00
140.00
Not included
🇯🇵 Japan
🇯🇵 Japan
Asia
1GB Plan Kazakhstan
1
30
35.00
35.00
Not included
🇰🇿 Kazakhstan
🇰🇿 Kazakhstan
Asia
3GB Plan Kazakhstan
3
30
23.33
70.00
Not included
🇰🇿 Kazakhstan
🇰🇿 Kazakhstan
Asia
1GB Data Global
1
7
8.00
8.00
Not included
🇦🇫 Afghanistan
🇦🇫 Afghanistan
Asia
1GB Data Global
1
7
8.00
8.00
Not included
🇦🇲 Armenia
🇦🇲 Armenia
Asia
1GB Data Global
1
7
8.00
8.00
Not included
🇦🇿 Azerbaijan
🇦🇿 Azerbaijan
Asia
1GB Data Global
1
7
8.00
8.00
Not included
🇧🇩 Bangladesh
🇧🇩 Bangladesh
Asia
1GB Data Global
1
7
8.00
8.00
Not included
🇨🇳 China
🇨🇳 China
Asia
1GB Data Global
1
7
8.00
8.00
Not included
🇬🇪 Georgia
🇬🇪 Georgia
Asia
1GB Data Global
1
7
8.00
8.00
Not included
🇭🇰 Hong Kong
🇭🇰 Hong Kong
Asia
1GB Data Global
1
7
8.00
8.00
Not included
🇮🇳 India
🇮🇳 India
Asia
1GB Data Global
1
7
8.00
8.00
Not included
🇯🇵 Japan
🇯🇵 Japan
Asia
1GB Data Global
1
7
8.00
8.00
Not included
🇰🇬 Kyrgyzstan
🇰🇬 Kyrgyzstan
Asia
1GB Data Global
1
7
8.00
8.00
Not included
🇰🇷 South Korea
🇰🇷 South Korea
Asia
1GB Data Global
1
7
8.00
8.00
Not included
🇰🇿 Kazakhstan
🇰🇿 Kazakhstan
Asia
1GB Data Global
1
7
8.00
8.00
Not included
🇱🇰 Sri Lanka
🇱🇰 Sri Lanka
Asia
1GB Data Global
1
7
8.00
8.00
Not included
🇲🇴 Macau
🇲🇴 Macau
Asia
1GB Data Global
1
7
8.00
8.00
Not included
🇵🇰 Pakistan
🇵🇰 Pakistan
Asia
1GB Data Global
1
7
8.00
8.00
Not included
🇹🇯 Tajikistan
🇹🇯 Tajikistan
Asia
1GB Data Global
1
7
8.00
8.00
Not included
🇹🇼 Taiwan
🇹🇼 Taiwan
Asia
1GB Data Global
1
7
8.00
8.00
Not included
🇺🇿 Uzbekistan
🇺🇿 Uzbekistan
Asia
1GB Global Subscription
1
30
50.00
50.00
Not included
🇦🇫 Afghanistan
🇦🇫 Afghanistan
Asia
1GB Global Subscription
1
30
50.00
50.00
Not included
🇦🇲 Armenia
🇦🇲 Armenia
Asia
1GB Global Subscription
1
30
50.00
50.00
Not included
🇦🇿 Azerbaijan
🇦🇿 Azerbaijan
Asia
1GB Global Subscription
1
30
50.00
50.00
Not included
🇧🇩 Bangladesh
🇧🇩 Bangladesh
Asia
1GB Global Subscription
1
30
50.00
50.00
Not included
🇨🇳 China
🇨🇳 China
Asia
1GB Global Subscription
1
30
50.00
50.00
Not included
🇬🇪 Georgia
🇬🇪 Georgia
Asia
1GB Global Subscription
1
30
50.00
50.00
Not included
🇭🇰 Hong Kong
🇭🇰 Hong Kong
Asia
1GB Global Subscription
1
30
50.00
50.00
Not included
🇮🇳 India
🇮🇳 India
Asia
1GB Global Subscription
1
30
50.00
50.00
Not included
🇯🇵 Japan
🇯🇵 Japan
Asia
1GB Global Subscription
1
30
50.00
50.00
Not included
🇰🇬 Kyrgyzstan
🇰🇬 Kyrgyzstan
Asia
1GB Global Subscription
1
30
50.00
50.00
Not included
🇰🇷 South Korea
🇰🇷 South Korea
Asia
1GB Global Subscription
1
30
50.00
50.00
Not included
🇰🇿 Kazakhstan
🇰🇿 Kazakhstan
Asia
1GB Global Subscription
1
30
50.00
50.00
Not included
🇱🇰 Sri Lanka
🇱🇰 Sri Lanka
Asia
1GB Global Subscription
1
30
50.00
50.00
Not included
🇲🇴 Macau
🇲🇴 Macau
Asia
1GB Global Subscription
1
30
50.00
50.00
Not included
🇵🇰 Pakistan
🇵🇰 Pakistan
Asia
1GB Global Subscription
1
30
50.00
50.00
Not included
🇹🇯 Tajikistan
🇹🇯 Tajikistan
Asia
1GB Global Subscription
1
30
50.00
50.00
Not included
🇹🇼 Taiwan
🇹🇼 Taiwan
Asia
1GB Global Subscription
1
30
50.00
50.00
Not included
🇺🇿 Uzbekistan
🇺🇿 Uzbekistan
Asia
3GB Data Global
3
15
6.67
20.00
Not included
🇦🇫 Afghanistan
🇦🇫 Afghanistan
Asia
3GB Data Global
3
15
6.67
20.00
Not included
🇦🇲 Armenia
🇦🇲 Armenia
Asia
3GB Data Global
3
15
6.67
20.00
Not included
🇦🇿 Azerbaijan
🇦🇿 Azerbaijan
Asia
3GB Data Global
3
15
6.67
20.00
Not included
🇧🇩 Bangladesh
🇧🇩 Bangladesh
Asia
3GB Data Global
3
15
6.67
20.00
Not included
🇨🇳 China
🇨🇳 China
Asia
3GB Data Global
3
15
6.67
20.00
Not included
🇬🇪 Georgia
🇬🇪 Georgia
Asia
3GB Data Global
3
15
6.67
20.00
Not included
🇭🇰 Hong Kong
🇭🇰 Hong Kong
Asia
3GB Data Global
3
15
6.67
20.00
Not included
🇮🇳 India
🇮🇳 India
Asia
3GB Data Global
3
15
6.67
20.00
Not included
🇯🇵 Japan
🇯🇵 Japan
Asia
3GB Data Global
3
15
6.67
20.00
Not included
🇰🇬 Kyrgyzstan
🇰🇬 Kyrgyzstan
Asia
3GB Data Global
3
15
6.67
20.00
Not included
🇰🇷 South Korea
🇰🇷 South Korea
Asia
3GB Data Global
3
15
6.67
20.00
Not included
🇰🇿 Kazakhstan
🇰🇿 Kazakhstan
Asia
3GB Data Global
3
15
6.67
20.00
Not included
🇱🇰 Sri Lanka
🇱🇰 Sri Lanka
Asia
3GB Data Global
3
15
6.67
20.00
Not included
🇲🇴 Macau
🇲🇴 Macau
Asia
3GB Data Global
3
15
6.67
20.00
Not included
🇵🇰 Pakistan
🇵🇰 Pakistan
Asia
3GB Data Global
3
15
6.67
20.00
Not included
🇹🇯 Tajikistan
🇹🇯 Tajikistan
Asia
3GB Data Global
3
15
6.67
20.00
Not included
🇹🇼 Taiwan
🇹🇼 Taiwan
Asia
3GB Data Global
3
15
6.67
20.00
Not included
🇺🇿 Uzbekistan
🇺🇿 Uzbekistan
Asia
10GB Data Global
10
30
5.00
50.00
Not included
🇦🇫 Afghanistan
🇦🇫 Afghanistan
Asia
10GB Data Global
10
30
5.00
50.00
Not included
🇦🇲 Armenia
🇦🇲 Armenia
Asia
10GB Data Global
10
30
5.00
50.00
Not included
🇦🇿 Azerbaijan
🇦🇿 Azerbaijan
Asia
10GB Data Global
10
30
5.00
50.00
Not included
🇧🇩 Bangladesh
🇧🇩 Bangladesh
Asia
10GB Data Global
10
30
5.00
50.00
Not included
🇨🇳 China
🇨🇳 China
Asia
10GB Data Global
10
30
5.00
50.00
Not included
🇬🇪 Georgia
🇬🇪 Georgia
Asia
10GB Data Global
10
30
5.00
50.00
Not included
🇭🇰 Hong Kong
🇭🇰 Hong Kong
Asia
10GB Data Global
10
30
5.00
50.00
Not included
🇮🇳 India
🇮🇳 India
Asia
10GB Data Global
10
30
5.00
50.00
Not included
🇯🇵 Japan
🇯🇵 Japan
Asia
10GB Data Global
10
30
5.00
50.00
Not included
🇰🇬 Kyrgyzstan
🇰🇬 Kyrgyzstan
Asia
10GB Data Global
10
30
5.00
50.00
Not included
🇰🇷 South Korea
🇰🇷 South Korea
Asia
10GB Data Global
10
30
5.00
50.00
Not included
🇰🇿 Kazakhstan
🇰🇿 Kazakhstan
Asia
10GB Data Global
10
30
5.00
50.00
Not included
🇱🇰 Sri Lanka
🇱🇰 Sri Lanka
Asia
10GB Data Global
10
30
5.00
50.00
Not included
🇲🇴 Macau
🇲🇴 Macau
Asia
10GB Data Global
10
30
5.00
50.00
Not included
🇵🇰 Pakistan
🇵🇰 Pakistan
Asia
10GB Data Global
10
30
5.00
50.00
Not included
🇹🇯 Tajikistan
🇹🇯 Tajikistan
Asia
10GB Data Global
10
30
5.00
50.00
Not included
🇹🇼 Taiwan
🇹🇼 Taiwan
Asia
10GB Data Global
10
30
5.00
50.00
Not included
🇺🇿 Uzbekistan
🇺🇿 Uzbekistan
Asia
Hong Kong eSIM
10
180
2.60
26.00
Not included
🇭🇰 Hong Kong
🇭🇰 Hong Kong
Asia
Europe eSIM
1
30
5.00
5.00
Not included
🇦🇲 Armenia
🇦🇲 Armenia
Asia
Europe eSIM
1
30
5.00
5.00
Not included
🇬🇪 Georgia
🇬🇪 Georgia
Asia
Europe eSIM
5
30
4.40
22.00
Not included
🇦🇲 Armenia
🇦🇲 Armenia
Asia
Europe eSIM
5
30
4.40
22.00
Not included
🇬🇪 Georgia
🇬🇪 Georgia
Asia
Europe eSIM
20
90
4.25
85.00
Not included
🇦🇲 Armenia
🇦🇲 Armenia
Asia
Europe eSIM
20
90
4.25
85.00
Not included
🇬🇪 Georgia
🇬🇪 Georgia
Asia
Asia Pacific eSIM
1
7
8.00
8.00
Not included
🇹🇼 Taiwan
🇹🇼 Taiwan
Asia
Asia Pacific eSIM
1
7
8.00
8.00
Not included
🇰🇷 South Korea
🇰🇷 South Korea
Asia
Asia Pacific eSIM
1
7
8.00
8.00
Not included
🇦🇿 Azerbaijan
🇦🇿 Azerbaijan
Asia
Asia Pacific eSIM
1
7
8.00
8.00
Not included
🇧🇩 Bangladesh
🇧🇩 Bangladesh
Asia
Asia Pacific eSIM
1
7
8.00
8.00
Not included
🇨🇳 China
🇨🇳 China
Asia
Asia Pacific eSIM
1
7
8.00
8.00
Not included
🇭🇰 Hong Kong
🇭🇰 Hong Kong
Asia
Asia Pacific eSIM
1
7
8.00
8.00
Not included
🇮🇳 India
🇮🇳 India
Asia
Asia Pacific eSIM
1
7
8.00
8.00
Not included
🇵🇰 Pakistan
🇵🇰 Pakistan
Asia
Asia Pacific eSIM
1
7
8.00
8.00
Not included
🇱🇰 Sri Lanka
🇱🇰 Sri Lanka
Asia
Asia Pacific eSIM
1
7
8.00
8.00
Not included
🇲🇴 Macau
🇲🇴 Macau
Asia
Asia Pacific eSIM
5
15
6.00
30.00
Not included
🇹🇼 Taiwan
🇹🇼 Taiwan
Asia
Asia Pacific eSIM
5
15
6.00
30.00
Not included
🇰🇷 South Korea
🇰🇷 South Korea
Asia
Asia Pacific eSIM
5
15
6.00
30.00
Not included
🇦🇿 Azerbaijan
🇦🇿 Azerbaijan
Asia
Asia Pacific eSIM
5
15
6.00
30.00
Not included
🇧🇩 Bangladesh
🇧🇩 Bangladesh
Asia
Asia Pacific eSIM
5
15
6.00
30.00
Not included
🇨🇳 China
🇨🇳 China
Asia
Asia Pacific eSIM
5
15
6.00
30.00
Not included
🇭🇰 Hong Kong
🇭🇰 Hong Kong
Asia
Asia Pacific eSIM
5
15
6.00
30.00
Not included
🇮🇳 India
🇮🇳 India
Asia
Asia Pacific eSIM
5
15
6.00
30.00
Not included
🇵🇰 Pakistan
🇵🇰 Pakistan
Asia
Asia Pacific eSIM
5
15
6.00
30.00
Not included
🇱🇰 Sri Lanka
🇱🇰 Sri Lanka
Asia
Asia Pacific eSIM
5
15
6.00
30.00
Not included
🇲🇴 Macau
🇲🇴 Macau
Asia
Asia Pacific eSIM
20
90
4.50
90.00
Not included
🇹🇼 Taiwan
🇹🇼 Taiwan
Asia
Asia Pacific eSIM
20
90
4.50
90.00
Not included
🇰🇷 South Korea
🇰🇷 South Korea
Asia
Asia Pacific eSIM
20
90
4.50
90.00
Not included
🇦🇿 Azerbaijan
🇦🇿 Azerbaijan
Asia
Asia Pacific eSIM
20
90
4.50
90.00
Not included
🇧🇩 Bangladesh
🇧🇩 Bangladesh
Asia
Asia Pacific eSIM
20
90
4.50
90.00
Not included
🇨🇳 China
🇨🇳 China
Asia
Asia Pacific eSIM
20
90
4.50
90.00
Not included
🇭🇰 Hong Kong
🇭🇰 Hong Kong
Asia
Asia Pacific eSIM
20
90
4.50
90.00
Not included
🇮🇳 India
🇮🇳 India
Asia
Asia Pacific eSIM
20
90
4.50
90.00
Not included
🇵🇰 Pakistan
🇵🇰 Pakistan
Asia
Asia Pacific eSIM
20
90
4.50
90.00
Not included
🇱🇰 Sri Lanka
🇱🇰 Sri Lanka
Asia
Asia Pacific eSIM
20
90
4.50
90.00
Not included
🇲🇴 Macau
🇲🇴 Macau
Asia
Global eSIM
1
3
6.67
10.00
Not included
🇦🇲 Armenia
🇦🇲 Armenia
Asia
Global eSIM
1
3
6.67
10.00
Not included
🇦🇿 Azerbaijan
🇦🇿 Azerbaijan
Asia
Global eSIM
1
3
6.67
10.00
Not included
🇧🇩 Bangladesh
🇧🇩 Bangladesh
Asia
Global eSIM
1
3
6.67
10.00
Not included
🇨🇳 China
🇨🇳 China
Asia
Global eSIM
1
3
6.67
10.00
Not included
🇭🇰 Hong Kong
🇭🇰 Hong Kong
Asia
Global eSIM
1
3
6.67
10.00
Not included
🇮🇳 India
🇮🇳 India
Asia
Global eSIM
1
3
6.67
10.00
Not included
🇰🇿 Kazakhstan
🇰🇿 Kazakhstan
Asia
Global eSIM
1
3
6.67
10.00
Not included
🇰🇬 Kyrgyzstan
🇰🇬 Kyrgyzstan
Asia
Global eSIM
1
3
6.67
10.00
Not included
🇲🇴 Macau
🇲🇴 Macau
Asia
Global eSIM
1
3
6.67
10.00
Not included
🇵🇰 Pakistan
🇵🇰 Pakistan
Asia
Global eSIM
1
3
6.67
10.00
Not included
🇰🇷 South Korea
🇰🇷 South Korea
Asia
Global eSIM
1
3
6.67
10.00
Not included
🇱🇰 Sri Lanka
🇱🇰 Sri Lanka
Asia
Global eSIM
1
3
6.67
10.00
Not included
🇹🇯 Tajikistan
🇹🇯 Tajikistan
Asia
Global eSIM
1
3
6.67
10.00
Not included
🇺🇿 Uzbekistan
🇺🇿 Uzbekistan
Asia
Global eSIM
1
15
12.00
12.00
Not included
🇦🇲 Armenia
🇦🇲 Armenia
Asia
Global eSIM
1
15
12.00
12.00
Not included
🇦🇿 Azerbaijan
🇦🇿 Azerbaijan
Asia
Global eSIM
1
15
12.00
12.00
Not included
🇧🇩 Bangladesh
🇧🇩 Bangladesh
Asia
Global eSIM
1
15
12.00
12.00
Not included
🇨🇳 China
🇨🇳 China
Asia
Global eSIM
1
15
12.00
12.00
Not included
🇭🇰 Hong Kong
🇭🇰 Hong Kong
Asia
Global eSIM
1
15
12.00
12.00
Not included
🇮🇳 India
🇮🇳 India
Asia
Global eSIM
1
15
12.00
12.00
Not included
🇰🇿 Kazakhstan
🇰🇿 Kazakhstan
Asia
Global eSIM
1
15
12.00
12.00
Not included
🇰🇬 Kyrgyzstan
🇰🇬 Kyrgyzstan
Asia
Global eSIM
1
15
12.00
12.00
Not included
🇲🇴 Macau
🇲🇴 Macau
Asia
Global eSIM
1
15
12.00
12.00
Not included
🇵🇰 Pakistan
🇵🇰 Pakistan
Asia
Global eSIM
1
15
12.00
12.00
Not included
🇰🇷 South Korea
🇰🇷 South Korea
Asia
Global eSIM
1
15
12.00
12.00
Not included
🇱🇰 Sri Lanka
🇱🇰 Sri Lanka
Asia
Global eSIM
1
15
12.00
12.00
Not included
🇹🇯 Tajikistan
🇹🇯 Tajikistan
Asia
Global eSIM
1
15
12.00
12.00
Not included
🇺🇿 Uzbekistan
🇺🇿 Uzbekistan
Asia
Global eSIM
5
30
10.00
50.00
Not included
🇦🇲 Armenia
🇦🇲 Armenia
Asia
Global eSIM
5
30
10.00
50.00
Not included
🇦🇿 Azerbaijan
🇦🇿 Azerbaijan
Asia
Global eSIM
5
30
10.00
50.00
Not included
🇧🇩 Bangladesh
🇧🇩 Bangladesh
Asia
Global eSIM
5
30
10.00
50.00
Not included
🇨🇳 China
🇨🇳 China
Asia
Global eSIM
5
30
10.00
50.00
Not included
🇭🇰 Hong Kong
🇭🇰 Hong Kong
Asia
Global eSIM
5
30
10.00
50.00
Not included
🇮🇳 India
🇮🇳 India
Asia
Global eSIM
5
30
10.00
50.00
Not included
🇰🇿 Kazakhstan
🇰🇿 Kazakhstan
Asia
Global eSIM
5
30
10.00
50.00
Not included
🇰🇬 Kyrgyzstan
🇰🇬 Kyrgyzstan
Asia
Global eSIM
5
30
10.00
50.00
Not included
🇲🇴 Macau
🇲🇴 Macau
Asia
Global eSIM
5
30
10.00
50.00
Not included
🇵🇰 Pakistan
🇵🇰 Pakistan
Asia
Global eSIM
5
30
10.00
50.00
Not included
🇰🇷 South Korea
🇰🇷 South Korea
Asia
Global eSIM
5
30
10.00
50.00
Not included
🇱🇰 Sri Lanka
🇱🇰 Sri Lanka
Asia
Global eSIM
5
30
10.00
50.00
Not included
🇹🇯 Tajikistan
🇹🇯 Tajikistan
Asia
Global eSIM
5
30
10.00
50.00
Not included
🇺🇿 Uzbekistan
🇺🇿 Uzbekistan
Asia
Regional USA Plus – 30 Days – 5 GB
5
30
4.76
23.79
Not included
🇭🇰 Hong Kong
🇭🇰 Hong Kong
Asia
Regional APAC – 30 Days – 5 GB
5
30
7.56
37.79
Not included
🇭🇰 Hong Kong
🇭🇰 Hong Kong
Asia
Regional APAC – 30 Days – 5 GB
5
30
7.56
37.79
Not included
🇮🇳 India
🇮🇳 India
Asia
Regional APAC – 30 Days – 5 GB
5
30
7.56
37.79
Not included
🇯🇵 Japan
🇯🇵 Japan
Asia
Global – 30 Days – 3 GB
3
30
16.33
48.99
Not included
🇦🇲 Armenia
🇦🇲 Armenia
Asia
Global – 30 Days – 3 GB
3
30
16.33
48.99
Not included
🇨🇳 China
🇨🇳 China
Asia
Global – 30 Days – 3 GB
3
30
16.33
48.99
Not included
🇭🇰 Hong Kong
🇭🇰 Hong Kong
Asia
Global – 30 Days – 3 GB
3
30
16.33
48.99
Not included
🇮🇳 India
🇮🇳 India
Asia
Global – 30 Days – 3 GB
3
30
16.33
48.99
Not included
🇯🇵 Japan
🇯🇵 Japan
Asia
Global – 30 Days – 3 GB
3
30
16.33
48.99
Not included
🇰🇿 Kazakhstan
🇰🇿 Kazakhstan
Asia
Global – 30 Days – 3 GB
3
30
16.33
48.99
Not included
🇰🇷 South Korea
🇰🇷 South Korea
Asia
Global – 30 Days – 3 GB
3
30
16.33
48.99
Not included
🇲🇳 Mongolia
🇲🇳 Mongolia
Asia
Global – 30 Days – 3 GB
3
30
16.33
48.99
Not included
🇱🇰 Sri Lanka
🇱🇰 Sri Lanka
Asia
Global – 30 Days – 3 GB
3
30
16.33
48.99
Not included
🇹🇼 Taiwan
🇹🇼 Taiwan
Asia
Global – 30 Days – 5 GB
5
30
12.60
62.99
Not included
🇦🇲 Armenia
🇦🇲 Armenia
Asia
Global – 30 Days – 5 GB
5
30
12.60
62.99
Not included
🇨🇳 China
🇨🇳 China
Asia
Global – 30 Days – 5 GB
5
30
12.60
62.99
Not included
🇭🇰 Hong Kong
🇭🇰 Hong Kong
Asia
Global – 30 Days – 5 GB
5
30
12.60
62.99
Not included
🇮🇳 India
🇮🇳 India
Asia
Global – 30 Days – 5 GB
5
30
12.60
62.99
Not included
🇯🇵 Japan
🇯🇵 Japan
Asia
Global – 30 Days – 5 GB
5
30
12.60
62.99
Not included
🇰🇿 Kazakhstan
🇰🇿 Kazakhstan
Asia
Global – 30 Days – 5 GB
5
30
12.60
62.99
Not included
🇰🇷 South Korea
🇰🇷 South Korea
Asia
Global – 30 Days – 5 GB
5
30
12.60
62.99
Not included
🇲🇳 Mongolia
🇲🇳 Mongolia
Asia
Global – 30 Days – 5 GB
5
30
12.60
62.99
Not included
🇱🇰 Sri Lanka
🇱🇰 Sri Lanka
Asia
Global – 30 Days – 5 GB
5
30
12.60
62.99
Not included
🇹🇼 Taiwan
🇹🇼 Taiwan
Asia
Regional APAC – 30 Days – 3 GB
3
30
11.66
34.99
Not included
🇭🇰 Hong Kong
🇭🇰 Hong Kong
Asia
Regional APAC – 30 Days – 3 GB
3
30
11.66
34.99
Not included
🇮🇳 India
🇮🇳 India
Asia
Regional APAC – 30 Days – 3 GB
3
30
11.66
34.99
Not included
🇯🇵 Japan
🇯🇵 Japan
Asia
Regional APAC – 30 Days – 10 GB
10
30
5.74
57.39
Not included
🇭🇰 Hong Kong
🇭🇰 Hong Kong
Asia
Regional APAC – 30 Days – 10 GB
10
30
5.74
57.39
Not included
🇮🇳 India
🇮🇳 India
Asia
Regional APAC – 30 Days – 10 GB
10
30
5.74
57.39
Not included
🇯🇵 Japan
🇯🇵 Japan
Asia
Regional USA Plus – 30 Days – 1 GB
1
30
10.50
10.50
Not included
🇭🇰 Hong Kong
🇭🇰 Hong Kong
Asia
Regional USA Plus – 1 Day – 1 GB
1
1
8.40
8.40
Not included
🇭🇰 Hong Kong
🇭🇰 Hong Kong
Asia
Regional USA Plus – 30 Days – 3 GB
3
30
7.00
21.00
Not included
🇭🇰 Hong Kong
🇭🇰 Hong Kong
Asia
Global – 30 Days – 2 GB
2
30
21.00
41.99
Not included
🇦🇲 Armenia
🇦🇲 Armenia
Asia
Global – 30 Days – 2 GB
2
30
21.00
41.99
Not included
🇨🇳 China
🇨🇳 China
Asia
Global – 30 Days – 2 GB
2
30
21.00
41.99
Not included
🇭🇰 Hong Kong
🇭🇰 Hong Kong
Asia
Global – 30 Days – 2 GB
2
30
21.00
41.99
Not included
🇮🇳 India
🇮🇳 India
Asia
Global – 30 Days – 2 GB
2
30
21.00
41.99
Not included
🇯🇵 Japan
🇯🇵 Japan
Asia
Global – 30 Days – 2 GB
2
30
21.00
41.99
Not included
🇰🇿 Kazakhstan
🇰🇿 Kazakhstan
Asia
Global – 30 Days – 2 GB
2
30
21.00
41.99
Not included
🇰🇷 South Korea
🇰🇷 South Korea
Asia
Global – 30 Days – 2 GB
2
30
21.00
41.99
Not included
🇲🇳 Mongolia
🇲🇳 Mongolia
Asia
Global – 30 Days – 2 GB
2
30
21.00
41.99
Not included
🇱🇰 Sri Lanka
🇱🇰 Sri Lanka
Asia
Global – 30 Days – 2 GB
2
30
21.00
41.99
Not included
🇹🇼 Taiwan
🇹🇼 Taiwan
Asia
Global – 1 Day – 1 GB
1
1
19.60
19.60
Not included
🇦🇲 Armenia
🇦🇲 Armenia
Asia
Global – 1 Day – 1 GB
1
1
19.60
19.60
Not included
🇨🇳 China
🇨🇳 China
Asia
Global – 1 Day – 1 GB
1
1
19.60
19.60
Not included
🇭🇰 Hong Kong
🇭🇰 Hong Kong
Asia
Global – 1 Day – 1 GB
1
1
19.60
19.60
Not included
🇮🇳 India
🇮🇳 India
Asia
Global – 1 Day – 1 GB
1
1
19.60
19.60
Not included
🇯🇵 Japan
🇯🇵 Japan
Asia
Global – 1 Day – 1 GB
1
1
19.60
19.60
Not included
🇰🇿 Kazakhstan
🇰🇿 Kazakhstan
Asia
Global – 1 Day – 1 GB
1
1
19.60
19.60
Not included
🇰🇷 South Korea
🇰🇷 South Korea
Asia
Global – 1 Day – 1 GB
1
1
19.60
19.60
Not included
🇲🇳 Mongolia
🇲🇳 Mongolia
Asia
Global – 1 Day – 1 GB
1
1
19.60
19.60
Not included
🇱🇰 Sri Lanka
🇱🇰 Sri Lanka
Asia
Global – 1 Day – 1 GB
1
1
19.60
19.60
Not included
🇹🇼 Taiwan
🇹🇼 Taiwan
Asia
Regional APAC – 1 Day – 1 GB
1
1
14.00
14.00
Not included
🇭🇰 Hong Kong
🇭🇰 Hong Kong
Asia
Regional APAC – 1 Day – 1 GB
1
1
14.00
14.00
Not included
🇮🇳 India
🇮🇳 India
Asia
Regional APAC – 1 Day – 1 GB
1
1
14.00
14.00
Not included
🇯🇵 Japan
🇯🇵 Japan
Asia
Local Hong Kong – 30 Days – 20 GB
20
30
1.82
36.39
Not included
🇭🇰 Hong Kong
🇭🇰 Hong Kong
Asia
Global – 30 Days – 1 GB
1
30
21.00
21.00
Not included
🇦🇲 Armenia
🇦🇲 Armenia
Asia
Global – 30 Days – 1 GB
1
30
21.00
21.00
Not included
🇨🇳 China
🇨🇳 China
Asia
Global – 30 Days – 1 GB
1
30
21.00
21.00
Not included
🇭🇰 Hong Kong
🇭🇰 Hong Kong
Asia
Global – 30 Days – 1 GB
1
30
21.00
21.00
Not included
🇮🇳 India
🇮🇳 India
Asia
Global – 30 Days – 1 GB
1
30
21.00
21.00
Not included
🇯🇵 Japan
🇯🇵 Japan
Asia
Global – 30 Days – 1 GB
1
30
21.00
21.00
Not included
🇰🇿 Kazakhstan
🇰🇿 Kazakhstan
Asia
Global – 30 Days – 1 GB
1
30
21.00
21.00
Not included
🇰🇷 South Korea
🇰🇷 South Korea
Asia
Global – 30 Days – 1 GB
1
30
21.00
21.00
Not included
🇲🇳 Mongolia
🇲🇳 Mongolia
Asia
Global – 30 Days – 1 GB
1
30
21.00
21.00
Not included
🇱🇰 Sri Lanka
🇱🇰 Sri Lanka
Asia
Global – 30 Days – 1 GB
1
30
21.00
21.00
Not included
🇹🇼 Taiwan
🇹🇼 Taiwan
Asia
Local Japan – 30 Days – 1 GB
1
30
8.40
8.40
Not included
🇯🇵 Japan
🇯🇵 Japan
Asia
Regional APAC – 30 Days – 2 GB
2
30
12.60
25.19
Not included
🇭🇰 Hong Kong
🇭🇰 Hong Kong
Asia
Regional APAC – 30 Days – 2 GB
2
30
12.60
25.19
Not included
🇮🇳 India
🇮🇳 India
Asia
Regional APAC – 30 Days – 2 GB
2
30
12.60
25.19
Not included
🇯🇵 Japan
🇯🇵 Japan
Asia
Regional USA Plus – 30 Days – 10 GB
10
30
3.36
33.59
Not included
🇭🇰 Hong Kong
🇭🇰 Hong Kong
Asia
Regional USA Plus – 30 Days – 2 GB
2
30
7.70
15.40
Not included
🇭🇰 Hong Kong
🇭🇰 Hong Kong
Asia
Regional APAC – 30 Days – 1 GB
1
30
14.00
14.00
Not included
🇭🇰 Hong Kong
🇭🇰 Hong Kong
Asia
Regional APAC – 30 Days – 1 GB
1
30
14.00
14.00
Not included
🇮🇳 India
🇮🇳 India
Asia
Regional APAC – 30 Days – 1 GB
1
30
14.00
14.00
Not included
🇯🇵 Japan
🇯🇵 Japan
Asia
Regional APAC – 30 Days – 20 GB
20
30
3.99
79.78
Not included
🇭🇰 Hong Kong
🇭🇰 Hong Kong
Asia
Regional APAC – 30 Days – 20 GB
20
30
3.99
79.78
Not included
🇮🇳 India
🇮🇳 India
Asia
Regional APAC – 30 Days – 20 GB
20
30
3.99
79.78
Not included
🇯🇵 Japan
🇯🇵 Japan
Asia
Local Armenia – 7 Days – 1GB
1
7
8.28
8.28
Not included
🇦🇲 Armenia
🇦🇲 Armenia
Asia
Local Azerbaijan – 7 Days – 1GB
1
7
8.28
8.28
Not included
🇦🇿 Azerbaijan
🇦🇿 Azerbaijan
Asia
Local China – 7 Days – 1GB
1
7
5.60
5.60
Not included
🇨🇳 China
🇨🇳 China
Asia
Local Hong Kong (Special Administrative Region of China) – 7 Days – 1GB
1
7
4.20
4.20
Not included
🇭🇰 Hong Kong
🇭🇰 Hong Kong
Asia
Local Republic of Korea – 7 Days – 1GB
1
7
4.43
4.43
Not included
🇰🇷 South Korea
🇰🇷 South Korea
Asia
Local Kazakhstan – 7 Days – 1GB
1
7
4.43
4.43
Not included
🇰🇿 Kazakhstan
🇰🇿 Kazakhstan
Asia
Local Sri Lanka – 7 Days – 1GB
1
7
4.43
4.43
Not included
🇱🇰 Sri Lanka
🇱🇰 Sri Lanka
Asia
Local Macau (Special Administrative Region of China) – 7 Days – 1GB
1
7
4.20
4.20
Not included
🇲🇴 Macau
🇲🇴 Macau
Asia
Local Pakistan – 7 Days – 1GB
1
7
4.43
4.43
Not included
🇵🇰 Pakistan
🇵🇰 Pakistan
Asia
Local Taiwan – 7 Days – 1GB
1
7
4.43
4.43
Not included
🇹🇼 Taiwan
🇹🇼 Taiwan
Asia
Local Uzbekistan – 7 Days – 1GB
1
7
4.43
4.43
Not included
🇺🇿 Uzbekistan
🇺🇿 Uzbekistan
Asia
Regional Asia – 7 Days – 1GB
1
7
4.43
4.43
Not included
🇭🇰 Hong Kong
🇭🇰 Hong Kong
Asia
Regional Asia – 7 Days – 1GB
1
7
4.43
4.43
Not included
🇰🇷 South Korea
🇰🇷 South Korea
Asia
Regional Asia – 7 Days – 1GB
1
7
4.43
4.43
Not included
🇰🇿 Kazakhstan
🇰🇿 Kazakhstan
Asia
Regional Asia – 7 Days – 1GB
1
7
4.43
4.43
Not included
🇱🇰 Sri Lanka
🇱🇰 Sri Lanka
Asia
Regional Asia – 7 Days – 1GB
1
7
4.43
4.43
Not included
🇲🇴 Macau
🇲🇴 Macau
Asia
Regional Asia – 7 Days – 1GB
1
7
4.43
4.43
Not included
🇵🇰 Pakistan
🇵🇰 Pakistan
Asia
Regional Asia – 7 Days – 1GB
1
7
4.43
4.43
Not included
🇹🇼 Taiwan
🇹🇼 Taiwan
Asia
Regional Asia – 7 Days – 1GB
1
7
4.43
4.43
Not included
🇺🇿 Uzbekistan
🇺🇿 Uzbekistan
Asia
Global – 7 Days – 1GB
1
7
19.36
19.36
Not included
🇦🇲 Armenia
🇦🇲 Armenia
Asia
Global – 7 Days – 1GB
1
7
19.36
19.36
Not included
🇦🇿 Azerbaijan
🇦🇿 Azerbaijan
Asia
Global – 7 Days – 1GB
1
7
19.36
19.36
Not included
🇧🇩 Bangladesh
🇧🇩 Bangladesh
Asia
Global – 7 Days – 1GB
1
7
19.36
19.36
Not included
🇨🇳 China
🇨🇳 China
Asia
Global – 7 Days – 1GB
1
7
19.36
19.36
Not included
🇬🇪 Georgia
🇬🇪 Georgia
Asia
Global – 7 Days – 1GB
1
7
19.36
19.36
Not included
🇭🇰 Hong Kong
🇭🇰 Hong Kong
Asia
Global – 7 Days – 1GB
1
7
19.36
19.36
Not included
🇮🇳 India
🇮🇳 India
Asia
Global – 7 Days – 1GB
1
7
19.36
19.36
Not included
🇯🇵 Japan
🇯🇵 Japan
Asia
Global – 7 Days – 1GB
1
7
19.36
19.36
Not included
🇰🇬 Kyrgyzstan
🇰🇬 Kyrgyzstan
Asia
Global – 7 Days – 1GB
1
7
19.36
19.36
Not included
🇰🇷 South Korea
🇰🇷 South Korea
Asia
Global – 7 Days – 1GB
1
7
19.36
19.36
Not included
🇰🇿 Kazakhstan
🇰🇿 Kazakhstan
Asia
Global – 7 Days – 1GB
1
7
19.36
19.36
Not included
🇱🇰 Sri Lanka
🇱🇰 Sri Lanka
Asia
Global – 7 Days – 1GB
1
7
19.36
19.36
Not included
🇲🇳 Mongolia
🇲🇳 Mongolia
Asia
Global – 7 Days – 1GB
1
7
19.36
19.36
Not included
🇲🇴 Macau
🇲🇴 Macau
Asia
Global – 7 Days – 1GB
1
7
19.36
19.36
Not included
🇵🇰 Pakistan
🇵🇰 Pakistan
Asia
Global – 7 Days – 1GB
1
7
19.36
19.36
Not included
🇹🇯 Tajikistan
🇹🇯 Tajikistan
Asia
Global – 7 Days – 1GB
1
7
19.36
19.36
Not included
🇹🇼 Taiwan
🇹🇼 Taiwan
Asia
Global – 7 Days – 1GB
1
7
19.36
19.36
Not included
🇺🇿 Uzbekistan
🇺🇿 Uzbekistan
Asia
Local Armenia – 30 Days – 3GB
3
30
7.00
21.00
Not included
🇦🇲 Armenia
🇦🇲 Armenia
Asia
Local China – 30 Days – 3GB
3
30
4.43
13.30
Not included
🇨🇳 China
🇨🇳 China
Asia
Local Hong Kong (Special Administrative Region of China) – 30 Days – 3GB
3
30
2.60
7.81
Not included
🇭🇰 Hong Kong
🇭🇰 Hong Kong
Asia
Local Republic of Korea – 30 Days – 3GB
3
30
2.95
8.86
Not included
🇰🇷 South Korea
🇰🇷 South Korea
Asia
Local Kazakhstan – 30 Days – 3GB
3
30
2.95
8.86
Not included
🇰🇿 Kazakhstan
🇰🇿 Kazakhstan
Asia
Local Sri Lanka – 30 Days – 3GB
3
30
2.95
8.86
Not included
🇱🇰 Sri Lanka
🇱🇰 Sri Lanka
Asia
Local Macau (Special Administrative Region of China) – 30 Days – 3GB
3
30
2.60
7.81
Not included
🇲🇴 Macau
🇲🇴 Macau
Asia
Local Pakistan – 30 Days – 3GB
3
30
2.95
8.86
Not included
🇵🇰 Pakistan
🇵🇰 Pakistan
Asia
Local Taiwan – 30 Days – 3GB
3
30
2.95
8.86
Not included
🇹🇼 Taiwan
🇹🇼 Taiwan
Asia
Local Uzbekistan – 30 Days – 3GB
3
30
2.95
8.86
Not included
🇺🇿 Uzbekistan
🇺🇿 Uzbekistan
Asia
Local Armenia – 30 Days – 5GB
5
30
6.44
32.19
Not included
🇦🇲 Armenia
🇦🇲 Armenia
Asia
Local China – 30 Days – 5GB
5
30
4.20
21.00
Not included
🇨🇳 China
🇨🇳 China
Asia
Local Hong Kong (Special Administrative Region of China) – 30 Days – 5GB
5
30
2.40
12.01
Not included
🇭🇰 Hong Kong
🇭🇰 Hong Kong
Asia
Local Republic of Korea – 30 Days – 5GB
5
30
2.73
13.65
Not included
🇰🇷 South Korea
🇰🇷 South Korea
Asia
Local Kazakhstan – 30 Days – 5GB
5
30
2.73
13.65
Not included
🇰🇿 Kazakhstan
🇰🇿 Kazakhstan
Asia
Local Sri Lanka – 30 Days – 5GB
5
30
2.73
13.65
Not included
🇱🇰 Sri Lanka
🇱🇰 Sri Lanka
Asia
Local Macau (Special Administrative Region of China) – 30 Days – 5GB
5
30
2.40
12.01
Not included
🇲🇴 Macau
🇲🇴 Macau
Asia
Local Pakistan – 30 Days – 5GB
5
30
2.73
13.65
Not included
🇵🇰 Pakistan
🇵🇰 Pakistan
Asia
Local Taiwan – 30 Days – 5GB
5
30
2.73
13.65
Not included
🇹🇼 Taiwan
🇹🇼 Taiwan
Asia
Local Uzbekistan – 30 Days – 5GB
5
30
2.73
13.65
Not included
🇺🇿 Uzbekistan
🇺🇿 Uzbekistan
Asia
Local Armenia – 30 Days – 10GB
10
30
5.63
56.34
Not included
🇦🇲 Armenia
🇦🇲 Armenia
Asia
Local Azerbaijan – 30 Days – 10GB
10
30
5.63
56.34
Not included
🇦🇿 Azerbaijan
🇦🇿 Azerbaijan
Asia
Local Hong Kong (Special Administrative Region of China) – 30 Days – 10GB
10
30
2.10
21.00
Not included
🇭🇰 Hong Kong
🇭🇰 Hong Kong
Asia
Local Republic of Korea – 30 Days – 10GB
10
30
2.41
24.14
Not included
🇰🇷 South Korea
🇰🇷 South Korea
Asia
Local Sri Lanka – 30 Days – 10GB
10
30
2.41
24.14
Not included
🇱🇰 Sri Lanka
🇱🇰 Sri Lanka
Asia
Local Macau (Special Administrative Region of China) – 30 Days – 10GB
10
30
2.10
21.00
Not included
🇲🇴 Macau
🇲🇴 Macau
Asia
Local Pakistan – 30 Days – 10GB
10
30
2.41
24.14
Not included
🇵🇰 Pakistan
🇵🇰 Pakistan
Asia
Local Taiwan – 30 Days – 10GB
10
30
2.41
24.14
Not included
🇹🇼 Taiwan
🇹🇼 Taiwan
Asia
Local Uzbekistan – 30 Days – 10GB
10
30
2.41
24.14
Not included
🇺🇿 Uzbekistan
🇺🇿 Uzbekistan
Asia
Local Armenia – 30 Days – 20GB
20
30
4.81
96.23
Not included
🇦🇲 Armenia
🇦🇲 Armenia
Asia
Local Azerbaijan – 30 Days – 20GB
20
30
4.81
96.23
Not included
🇦🇿 Azerbaijan
🇦🇿 Azerbaijan
Asia
Local China – 30 Days – 20GB
20
30
3.21
64.15
Not included
🇨🇳 China
🇨🇳 China
Asia
Local India – 30 Days – 20GB
20
30
4.81
96.23
Not included
🇮🇳 India
🇮🇳 India
Asia
Local Republic of Korea – 30 Days – 20GB
20
30
2.09
41.76
Not included
🇰🇷 South Korea
🇰🇷 South Korea
Asia
Local Kazakhstan – 30 Days – 20GB
20
30
2.09
41.76
Not included
🇰🇿 Kazakhstan
🇰🇿 Kazakhstan
Asia
Local Sri Lanka – 30 Days – 20GB
20
30
2.09
41.76
Not included
🇱🇰 Sri Lanka
🇱🇰 Sri Lanka
Asia
Local Macau (Special Administrative Region of China) – 30 Days – 20GB
20
30
1.85
37.09
Not included
🇲🇴 Macau
🇲🇴 Macau
Asia
Local Pakistan – 30 Days – 20GB
20
30
2.09
41.76
Not included
🇵🇰 Pakistan
🇵🇰 Pakistan
Asia
Local Taiwan – 30 Days – 20GB
20
30
2.09
41.76
Not included
🇹🇼 Taiwan
🇹🇼 Taiwan
Asia
Local Uzbekistan – 30 Days – 20GB
20
30
2.09
41.76
Not included
🇺🇿 Uzbekistan
🇺🇿 Uzbekistan
Asia
Regional Asia – 30 Days – 3GB
3
30
2.95
8.86
Not included
🇭🇰 Hong Kong
🇭🇰 Hong Kong
Asia
Regional Asia – 30 Days – 3GB
3
30
2.95
8.86
Not included
🇰🇷 South Korea
🇰🇷 South Korea
Asia
Regional Asia – 30 Days – 3GB
3
30
2.95
8.86
Not included
🇰🇿 Kazakhstan
🇰🇿 Kazakhstan
Asia
Regional Asia – 30 Days – 3GB
3
30
2.95
8.86
Not included
🇱🇰 Sri Lanka
🇱🇰 Sri Lanka
Asia
Regional Asia – 30 Days – 3GB
3
30
2.95
8.86
Not included
🇲🇴 Macau
🇲🇴 Macau
Asia
Regional Asia – 30 Days – 3GB
3
30
2.95
8.86
Not included
🇵🇰 Pakistan
🇵🇰 Pakistan
Asia
Regional Asia – 30 Days – 3GB
3
30
2.95
8.86
Not included
🇹🇼 Taiwan
🇹🇼 Taiwan
Asia
Regional Asia – 30 Days – 3GB
3
30
2.95
8.86
Not included
🇺🇿 Uzbekistan
🇺🇿 Uzbekistan
Asia
Global – 30 Days – 3GB
3
30
16.06
48.17
Not included
🇦🇲 Armenia
🇦🇲 Armenia
Asia
Global – 30 Days – 3GB
3
30
16.06
48.17
Not included
🇦🇿 Azerbaijan
🇦🇿 Azerbaijan
Asia
Global – 30 Days – 3GB
3
30
16.06
48.17
Not included
🇧🇩 Bangladesh
🇧🇩 Bangladesh
Asia
Global – 30 Days – 3GB
3
30
16.06
48.17
Not included
🇨🇳 China
🇨🇳 China
Asia
Global – 30 Days – 3GB
3
30
16.06
48.17
Not included
🇬🇪 Georgia
🇬🇪 Georgia
Asia
Global – 30 Days – 3GB
3
30
16.06
48.17
Not included
🇭🇰 Hong Kong
🇭🇰 Hong Kong
Asia
Global – 30 Days – 3GB
3
30
16.06
48.17
Not included
🇮🇳 India
🇮🇳 India
Asia
Global – 30 Days – 3GB
3
30
16.06
48.17
Not included
🇯🇵 Japan
🇯🇵 Japan
Asia
Global – 30 Days – 3GB
3
30
16.06
48.17
Not included
🇰🇬 Kyrgyzstan
🇰🇬 Kyrgyzstan
Asia
Global – 30 Days – 3GB
3
30
16.06
48.17
Not included
🇰🇷 South Korea
🇰🇷 South Korea
Asia
Global – 30 Days – 3GB
3
30
16.06
48.17
Not included
🇰🇿 Kazakhstan
🇰🇿 Kazakhstan
Asia
Global – 30 Days – 3GB
3
30
16.06
48.17
Not included
🇱🇰 Sri Lanka
🇱🇰 Sri Lanka
Asia
Global – 30 Days – 3GB
3
30
16.06
48.17
Not included
🇲🇳 Mongolia
🇲🇳 Mongolia
Asia
Global – 30 Days – 3GB
3
30
16.06
48.17
Not included
🇲🇴 Macau
🇲🇴 Macau
Asia
Global – 30 Days – 3GB
3
30
16.06
48.17
Not included
🇵🇰 Pakistan
🇵🇰 Pakistan
Asia
Global – 30 Days – 3GB
3
30
16.06
48.17
Not included
🇹🇯 Tajikistan
🇹🇯 Tajikistan
Asia
Global – 30 Days – 3GB
3
30
16.06
48.17
Not included
🇹🇼 Taiwan
🇹🇼 Taiwan
Asia
Global – 30 Days – 3GB
3
30
16.06
48.17
Not included
🇺🇿 Uzbekistan
🇺🇿 Uzbekistan
Asia
Regional Asia – 30 Days – 5GB
5
30
2.73
13.65
Not included
🇭🇰 Hong Kong
🇭🇰 Hong Kong
Asia
Regional Asia – 30 Days – 5GB
5
30
2.73
13.65
Not included
🇰🇷 South Korea
🇰🇷 South Korea
Asia
Regional Asia – 30 Days – 5GB
5
30
2.73
13.65
Not included
🇰🇿 Kazakhstan
🇰🇿 Kazakhstan
Asia
Regional Asia – 30 Days – 5GB
5
30
2.73
13.65
Not included
🇱🇰 Sri Lanka
🇱🇰 Sri Lanka
Asia
Regional Asia – 30 Days – 5GB
5
30
2.73
13.65
Not included
🇲🇴 Macau
🇲🇴 Macau
Asia
Regional Asia – 30 Days – 5GB
5
30
2.73
13.65
Not included
🇵🇰 Pakistan
🇵🇰 Pakistan
Asia
Regional Asia – 30 Days – 5GB
5
30
2.73
13.65
Not included
🇹🇼 Taiwan
🇹🇼 Taiwan
Asia
Regional Asia – 30 Days – 5GB
5
30
2.73
13.65
Not included
🇺🇿 Uzbekistan
🇺🇿 Uzbekistan
Asia
Global – 30 Days – 5GB
5
30
14.44
72.20
Not included
🇦🇲 Armenia
🇦🇲 Armenia
Asia
Global – 30 Days – 5GB
5
30
14.44
72.20
Not included
🇦🇿 Azerbaijan
🇦🇿 Azerbaijan
Asia
Global – 30 Days – 5GB
5
30
14.44
72.20
Not included
🇧🇩 Bangladesh
🇧🇩 Bangladesh
Asia
Global – 30 Days – 5GB
5
30
14.44
72.20
Not included
🇨🇳 China
🇨🇳 China
Asia
Global – 30 Days – 5GB
5
30
14.44
72.20
Not included
🇬🇪 Georgia
🇬🇪 Georgia
Asia
Global – 30 Days – 5GB
5
30
14.44
72.20
Not included
🇭🇰 Hong Kong
🇭🇰 Hong Kong
Asia
Global – 30 Days – 5GB
5
30
14.44
72.20
Not included
🇮🇳 India
🇮🇳 India
Asia
Global – 30 Days – 5GB
5
30
14.44
72.20
Not included
🇯🇵 Japan
🇯🇵 Japan
Asia
Global – 30 Days – 5GB
5
30
14.44
72.20
Not included
🇰🇬 Kyrgyzstan
🇰🇬 Kyrgyzstan
Asia
Global – 30 Days – 5GB
5
30
14.44
72.20
Not included
🇰🇷 South Korea
🇰🇷 South Korea
Asia
Global – 30 Days – 5GB
5
30
14.44
72.20
Not included
🇰🇿 Kazakhstan
🇰🇿 Kazakhstan
Asia
Global – 30 Days – 5GB
5
30
14.44
72.20
Not included
🇱🇰 Sri Lanka
🇱🇰 Sri Lanka
Asia
Global – 30 Days – 5GB
5
30
14.44
72.20
Not included
🇲🇳 Mongolia
🇲🇳 Mongolia
Asia
Global – 30 Days – 5GB
5
30
14.44
72.20
Not included
🇲🇴 Macau
🇲🇴 Macau
Asia
Global – 30 Days – 5GB
5
30
14.44
72.20
Not included
🇵🇰 Pakistan
🇵🇰 Pakistan
Asia
Global – 30 Days – 5GB
5
30
14.44
72.20
Not included
🇹🇯 Tajikistan
🇹🇯 Tajikistan
Asia
Global – 30 Days – 5GB
5
30
14.44
72.20
Not included
🇹🇼 Taiwan
🇹🇼 Taiwan
Asia
Global – 30 Days – 5GB
5
30
14.44
72.20
Not included
🇺🇿 Uzbekistan
🇺🇿 Uzbekistan
Asia
Regional Asia – 30 Days – 10GB
10
30
2.41
24.14
Not included
🇭🇰 Hong Kong
🇭🇰 Hong Kong
Asia
Regional Asia – 30 Days – 10GB
10
30
2.41
24.14
Not included
🇰🇷 South Korea
🇰🇷 South Korea
Asia
Regional Asia – 30 Days – 10GB
10
30
2.41
24.14
Not included
🇰🇿 Kazakhstan
🇰🇿 Kazakhstan
Asia
Regional Asia – 30 Days – 10GB
10
30
2.41
24.14
Not included
🇱🇰 Sri Lanka
🇱🇰 Sri Lanka
Asia
Regional Asia – 30 Days – 10GB
10
30
2.41
24.14
Not included
🇲🇴 Macau
🇲🇴 Macau
Asia
Regional Asia – 30 Days – 10GB
10
30
2.41
24.14
Not included
🇵🇰 Pakistan
🇵🇰 Pakistan
Asia
Regional Asia – 30 Days – 10GB
10
30
2.41
24.14
Not included
🇹🇼 Taiwan
🇹🇼 Taiwan
Asia
Regional Asia – 30 Days – 10GB
10
30
2.41
24.14
Not included
🇺🇿 Uzbekistan
🇺🇿 Uzbekistan
Asia
Regional Asia – 30 Days – 20GB
20
30
2.09
41.76
Not included
🇭🇰 Hong Kong
🇭🇰 Hong Kong
Asia
Regional Asia – 30 Days – 20GB
20
30
2.09
41.76
Not included
🇰🇷 South Korea
🇰🇷 South Korea
Asia
Regional Asia – 30 Days – 20GB
20
30
2.09
41.76
Not included
🇰🇿 Kazakhstan
🇰🇿 Kazakhstan
Asia
Regional Asia – 30 Days – 20GB
20
30
2.09
41.76
Not included
🇱🇰 Sri Lanka
🇱🇰 Sri Lanka
Asia
Regional Asia – 30 Days – 20GB
20
30
2.09
41.76
Not included
🇲🇴 Macau
🇲🇴 Macau
Asia
Regional Asia – 30 Days – 20GB
20
30
2.09
41.76
Not included
🇵🇰 Pakistan
🇵🇰 Pakistan
Asia
Regional Asia – 30 Days – 20GB
20
30
2.09
41.76
Not included
🇹🇼 Taiwan
🇹🇼 Taiwan
Asia
Regional Asia – 30 Days – 20GB
20
30
2.09
41.76
Not included
🇺🇿 Uzbekistan
🇺🇿 Uzbekistan
Asia
Local Bhutan – 1 GB – 7 Days
1
7
12.36
12.36
Not included
🇧🇹 Bhutan
🇧🇹 Bhutan
Asia
Local Kyrgyzstan – 1 GB – 7 Days
1
7
10.38
10.38
Not included
🇰🇬 Kyrgyzstan
🇰🇬 Kyrgyzstan
Asia
Local Kyrgyzstan – 3 GB – 30 Days
3
30
9.02
27.06
Not included
🇰🇬 Kyrgyzstan
🇰🇬 Kyrgyzstan
Asia
Local Kyrgyzstan – 5 GB – 30 Days
5
30
6.21
31.03
Not included
🇰🇬 Kyrgyzstan
🇰🇬 Kyrgyzstan
Asia
Global Asia – 1 GB – 7 Days
1
7
6.53
6.53
Not included
🇨🇳 China
🇨🇳 China
Asia
Global Asia – 1 GB – 7 Days
1
7
6.53
6.53
Not included
🇭🇰 Hong Kong
🇭🇰 Hong Kong
Asia
Global Asia – 1 GB – 7 Days
1
7
6.53
6.53
Not included
🇯🇵 Japan
🇯🇵 Japan
Asia
Global Asia – 1 GB – 7 Days
1
7
6.53
6.53
Not included
🇲🇴 Macau
🇲🇴 Macau
Asia
Global Asia – 1 GB – 7 Days
1
7
6.53
6.53
Not included
🇰🇷 South Korea
🇰🇷 South Korea
Asia
Global Asia – 1 GB – 7 Days
1
7
6.53
6.53
Not included
🇹🇼 Taiwan
🇹🇼 Taiwan
Asia
Local Bangladesh – 1 GB – 7 Days
1
7
6.07
6.07
Not included
🇧🇩 Bangladesh
🇧🇩 Bangladesh
Asia
Local India – 1 GB – 7 Days
1
7
6.07
6.07
Not included
🇮🇳 India
🇮🇳 India
Asia
Global Asia – 3 GB – 30 Days
3
30
5.60
16.80
Not included
🇨🇳 China
🇨🇳 China
Asia
Global Asia – 3 GB – 30 Days
3
30
5.60
16.80
Not included
🇭🇰 Hong Kong
🇭🇰 Hong Kong
Asia
Global Asia – 3 GB – 30 Days
3
30
5.60
16.80
Not included
🇯🇵 Japan
🇯🇵 Japan
Asia
Global Asia – 3 GB – 30 Days
3
30
5.60
16.80
Not included
🇲🇴 Macau
🇲🇴 Macau
Asia
Global Asia – 3 GB – 30 Days
3
30
5.60
16.80
Not included
🇰🇷 South Korea
🇰🇷 South Korea
Asia
Global Asia – 3 GB – 30 Days
3
30
5.60
16.80
Not included
🇹🇼 Taiwan
🇹🇼 Taiwan
Asia
Global Asia – 5 GB – 30 Days
5
30
5.16
25.78
Not included
🇨🇳 China
🇨🇳 China
Asia
Global Asia – 5 GB – 30 Days
5
30
5.16
25.78
Not included
🇭🇰 Hong Kong
🇭🇰 Hong Kong
Asia
Global Asia – 5 GB – 30 Days
5
30
5.16
25.78
Not included
🇯🇵 Japan
🇯🇵 Japan
Asia
Global Asia – 5 GB – 30 Days
5
30
5.16
25.78
Not included
🇲🇴 Macau
🇲🇴 Macau
Asia
Global Asia – 5 GB – 30 Days
5
30
5.16
25.78
Not included
🇰🇷 South Korea
🇰🇷 South Korea
Asia
Global Asia – 5 GB – 30 Days
5
30
5.16
25.78
Not included
🇹🇼 Taiwan
🇹🇼 Taiwan
Asia
Local China – 2 GB – 15 Days
2
15
5.54
11.08
Not included
🇨🇳 China
🇨🇳 China
Asia
Local Bangladesh – 3 GB – 30 Days
3
30
3.89
11.66
Not included
🇧🇩 Bangladesh
🇧🇩 Bangladesh
Asia
Local Bangladesh – 5 GB – 30 Days
5
30
3.36
16.80
Not included
🇧🇩 Bangladesh
🇧🇩 Bangladesh
Asia
Local India – 3 GB – 30 Days
3
30
4.78
14.35
Not included
🇮🇳 India
🇮🇳 India
Asia
Local Nepal – 1 GB – 7 Days
1
7
12.36
12.36
Not included
🇳🇵 Nepal
🇳🇵 Nepal
Asia
Global Asia – 10 GB – 30 Days
10
30
4.76
47.59
Not included
🇨🇳 China
🇨🇳 China
Asia
Global Asia – 10 GB – 30 Days
10
30
4.76
47.59
Not included
🇭🇰 Hong Kong
🇭🇰 Hong Kong
Asia
Global Asia – 10 GB – 30 Days
10
30
4.76
47.59
Not included
🇯🇵 Japan
🇯🇵 Japan
Asia
Global Asia – 10 GB – 30 Days
10
30
4.76
47.59
Not included
🇲🇴 Macau
🇲🇴 Macau
Asia
Global Asia – 10 GB – 30 Days
10
30
4.76
47.59
Not included
🇰🇷 South Korea
🇰🇷 South Korea
Asia
Global Asia – 10 GB – 30 Days
10
30
4.76
47.59
Not included
🇹🇼 Taiwan
🇹🇼 Taiwan
Asia
Global Asia – 50 GB – 90 Days
50
90
2.57
128.65
Not included
🇨🇳 China
🇨🇳 China
Asia
Global Asia – 50 GB – 90 Days
50
90
2.57
128.65
Not included
🇭🇰 Hong Kong
🇭🇰 Hong Kong
Asia
Global Asia – 50 GB – 90 Days
50
90
2.57
128.65
Not included
🇯🇵 Japan
🇯🇵 Japan
Asia
Global Asia – 50 GB – 90 Days
50
90
2.57
128.65
Not included
🇲🇴 Macau
🇲🇴 Macau
Asia
Global Asia – 50 GB – 90 Days
50
90
2.57
128.65
Not included
🇰🇷 South Korea
🇰🇷 South Korea
Asia
Global Asia – 50 GB – 90 Days
50
90
2.57
128.65
Not included
🇹🇼 Taiwan
🇹🇼 Taiwan
Asia
Local China – 10 GB – 30 Days
10
30
3.62
36.16
Not included
🇨🇳 China
🇨🇳 China
Asia
Local Bangladesh – 10 GB – 30 Days
10
30
2.85
28.46
Not included
🇧🇩 Bangladesh
🇧🇩 Bangladesh
Asia
Local India – 10 GB – 30 Days
10
30
3.48
34.76
Not included
🇮🇳 India
🇮🇳 India
Asia
Local India – 5 GB – 30 Days
5
30
4.13
20.65
Not included
🇮🇳 India
🇮🇳 India
Asia
Local Kazakhstan – 10 GB – 30 Days
10
30
2.33
23.33
Not included
🇰🇿 Kazakhstan
🇰🇿 Kazakhstan
Asia
Local Japan – 1 GB – 7 Days
1
7
6.07
6.07
Not included
🇯🇵 Japan
🇯🇵 Japan
Asia
Global Asia – 100 GB – 180 Days
100
180
2.20
220.21
Not included
🇨🇳 China
🇨🇳 China
Asia
Global Asia – 100 GB – 180 Days
100
180
2.20
220.21
Not included
🇭🇰 Hong Kong
🇭🇰 Hong Kong
Asia
Global Asia – 100 GB – 180 Days
100
180
2.20
220.21
Not included
🇯🇵 Japan
🇯🇵 Japan
Asia
Global Asia – 100 GB – 180 Days
100
180
2.20
220.21
Not included
🇲🇴 Macau
🇲🇴 Macau
Asia
Global Asia – 100 GB – 180 Days
100
180
2.20
220.21
Not included
🇰🇷 South Korea
🇰🇷 South Korea
Asia
Global Asia – 100 GB – 180 Days
100
180
2.20
220.21
Not included
🇹🇼 Taiwan
🇹🇼 Taiwan
Asia
Local Georgia – 1 GB – 7 Days
1
7
6.70
6.70
Not included
🇬🇪 Georgia
🇬🇪 Georgia
Asia
Local Japan – 2 GB – 15 Days
2
15
3.89
7.78
Not included
🇯🇵 Japan
🇯🇵 Japan
Asia
Local Japan – 3 GB – 30 Days
3
30
3.42
10.26
Not included
🇯🇵 Japan
🇯🇵 Japan
Asia
Local Japan – 5 GB – 30 Days
5
30
2.76
13.82
Not included
🇯🇵 Japan
🇯🇵 Japan
Asia
Local Armenia – 2 GB – 15 Days
2
15
7.45
14.90
Not included
🇦🇲 Armenia
🇦🇲 Armenia
Asia
Local Georgia – 2 GB – 15 Days
2
15
5.99
11.99
Not included
🇬🇪 Georgia
🇬🇪 Georgia
Asia
Local Georgia – 3 GB – 30 Days
3
30
5.36
16.09
Not included
🇬🇪 Georgia
🇬🇪 Georgia
Asia
Local Georgia – 5 GB – 30 Days
5
30
4.77
23.87
Not included
🇬🇪 Georgia
🇬🇪 Georgia
Asia
Local Japan – 10 GB – 30 Days
10
30
2.16
21.60
Not included
🇯🇵 Japan
🇯🇵 Japan
Asia
Local Japan – 20 GB – 30 Days
20
30
1.55
31.00
Not included
🇯🇵 Japan
🇯🇵 Japan
Asia
Local Tajikistan – 1 GB – 7 Days
1
7
5.62
5.62
Not included
🇹🇯 Tajikistan
🇹🇯 Tajikistan
Asia
Local Afghanistan – 1 GB – 7 Days
1
7
9.61
9.61
Not included
🇦🇫 Afghanistan
🇦🇫 Afghanistan
Asia
Local Azerbaijan – 3 GB – 30 Days
3
30
5.58
16.74
Not included
🇦🇿 Azerbaijan
🇦🇿 Azerbaijan
Asia
Local Azerbaijan – 5 GB – 30 Days
5
30
5.01
25.06
Not included
🇦🇿 Azerbaijan
🇦🇿 Azerbaijan
Asia
Local Georgia – 10 GB – 30 Days
10
30
4.18
41.80
Not included
🇬🇪 Georgia
🇬🇪 Georgia
Asia
Local Tajikistan – 3 GB – 30 Days
3
30
3.82
11.45
Not included
🇹🇯 Tajikistan
🇹🇯 Tajikistan
Asia
Local Tajikistan – 5 GB – 30 Days
5
30
3.11
15.55
Not included
🇹🇯 Tajikistan
🇹🇯 Tajikistan
Asia
Local Afghanistan – 3 GB – 30 Days
3
30
6.37
19.12
Not included
🇦🇫 Afghanistan
🇦🇫 Afghanistan
Asia
Global Discover Global – 1 GB – 7 Days
1
7
10.80
10.80
Not included
🇦🇿 Azerbaijan
🇦🇿 Azerbaijan
Asia
Global Discover Global – 1 GB – 7 Days
1
7
10.80
10.80
Not included
🇨🇳 China
🇨🇳 China
Asia
Global Discover Global – 1 GB – 7 Days
1
7
10.80
10.80
Not included
🇬🇪 Georgia
🇬🇪 Georgia
Asia
Global Discover Global – 1 GB – 7 Days
1
7
10.80
10.80
Not included
🇭🇰 Hong Kong
🇭🇰 Hong Kong
Asia
Global Discover Global – 1 GB – 7 Days
1
7
10.80
10.80
Not included
🇮🇳 India
🇮🇳 India
Asia
Global Discover Global – 1 GB – 7 Days
1
7
10.80
10.80
Not included
🇯🇵 Japan
🇯🇵 Japan
Asia
Global Discover Global – 1 GB – 7 Days
1
7
10.80
10.80
Not included
🇲🇴 Macau
🇲🇴 Macau
Asia
Global Discover Global – 1 GB – 7 Days
1
7
10.80
10.80
Not included
🇰🇷 South Korea
🇰🇷 South Korea
Asia
Global Discover Global – 1 GB – 7 Days
1
7
10.80
10.80
Not included
🇱🇰 Sri Lanka
🇱🇰 Sri Lanka
Asia
Global Discover Global – 1 GB – 7 Days
1
7
10.80
10.80
Not included
🇹🇼 Taiwan
🇹🇼 Taiwan
Asia
Global Discover Global – 1 GB – 7 Days
1
7
10.80
10.80
Not included
🇹🇯 Tajikistan
🇹🇯 Tajikistan
Asia
Local Tajikistan – 10 GB – 30 Days
10
30
2.51
25.06
Not included
🇹🇯 Tajikistan
🇹🇯 Tajikistan
Asia
Global Discover Global – 3 GB – 15 Days
3
15
9.58
28.73
Not included
🇦🇿 Azerbaijan
🇦🇿 Azerbaijan
Asia
Global Discover Global – 3 GB – 15 Days
3
15
9.58
28.73
Not included
🇨🇳 China
🇨🇳 China
Asia
Global Discover Global – 3 GB – 15 Days
3
15
9.58
28.73
Not included
🇬🇪 Georgia
🇬🇪 Georgia
Asia
Global Discover Global – 3 GB – 15 Days
3
15
9.58
28.73
Not included
🇭🇰 Hong Kong
🇭🇰 Hong Kong
Asia
Global Discover Global – 3 GB – 15 Days
3
15
9.58
28.73
Not included
🇮🇳 India
🇮🇳 India
Asia
Global Discover Global – 3 GB – 15 Days
3
15
9.58
28.73
Not included
🇯🇵 Japan
🇯🇵 Japan
Asia
Global Discover Global – 3 GB – 15 Days
3
15
9.58
28.73
Not included
🇲🇴 Macau
🇲🇴 Macau
Asia
Global Discover Global – 3 GB – 15 Days
3
15
9.58
28.73
Not included
🇰🇷 South Korea
🇰🇷 South Korea
Asia
Global Discover Global – 3 GB – 15 Days
3
15
9.58
28.73
Not included
🇱🇰 Sri Lanka
🇱🇰 Sri Lanka
Asia
Global Discover Global – 3 GB – 15 Days
3
15
9.58
28.73
Not included
🇹🇼 Taiwan
🇹🇼 Taiwan
Asia
Global Discover Global – 3 GB – 15 Days
3
15
9.58
28.73
Not included
🇹🇯 Tajikistan
🇹🇯 Tajikistan
Asia
Global Discover Global – 5 GB – 30 Days
5
30
8.36
41.80
Not included
🇦🇿 Azerbaijan
🇦🇿 Azerbaijan
Asia
Global Discover Global – 5 GB – 30 Days
5
30
8.36
41.80
Not included
🇨🇳 China
🇨🇳 China
Asia
Global Discover Global – 5 GB – 30 Days
5
30
8.36
41.80
Not included
🇬🇪 Georgia
🇬🇪 Georgia
Asia
Global Discover Global – 5 GB – 30 Days
5
30
8.36
41.80
Not included
🇭🇰 Hong Kong
🇭🇰 Hong Kong
Asia
Global Discover Global – 5 GB – 30 Days
5
30
8.36
41.80
Not included
🇮🇳 India
🇮🇳 India
Asia
Global Discover Global – 5 GB – 30 Days
5
30
8.36
41.80
Not included
🇯🇵 Japan
🇯🇵 Japan
Asia
Global Discover Global – 5 GB – 30 Days
5
30
8.36
41.80
Not included
🇲🇴 Macau
🇲🇴 Macau
Asia
Global Discover Global – 5 GB – 30 Days
5
30
8.36
41.80
Not included
🇰🇷 South Korea
🇰🇷 South Korea
Asia
Global Discover Global – 5 GB – 30 Days
5
30
8.36
41.80
Not included
🇱🇰 Sri Lanka
🇱🇰 Sri Lanka
Asia
Global Discover Global – 5 GB – 30 Days
5
30
8.36
41.80
Not included
🇹🇼 Taiwan
🇹🇼 Taiwan
Asia
Global Discover Global – 5 GB – 30 Days
5
30
8.36
41.80
Not included
🇹🇯 Tajikistan
🇹🇯 Tajikistan
Asia
Global Discover Global – 10 GB – 60 Days
10
60
7.03
70.31
Not included
🇦🇿 Azerbaijan
🇦🇿 Azerbaijan
Asia
Global Discover Global – 10 GB – 60 Days
10
60
7.03
70.31
Not included
🇨🇳 China
🇨🇳 China
Asia
Global Discover Global – 10 GB – 60 Days
10
60
7.03
70.31
Not included
🇬🇪 Georgia
🇬🇪 Georgia
Asia
Global Discover Global – 10 GB – 60 Days
10
60
7.03
70.31
Not included
🇭🇰 Hong Kong
🇭🇰 Hong Kong
Asia
Global Discover Global – 10 GB – 60 Days
10
60
7.03
70.31
Not included
🇮🇳 India
🇮🇳 India
Asia
Global Discover Global – 10 GB – 60 Days
10
60
7.03
70.31
Not included
🇯🇵 Japan
🇯🇵 Japan
Asia
Global Discover Global – 10 GB – 60 Days
10
60
7.03
70.31
Not included
🇲🇴 Macau
🇲🇴 Macau
Asia
Global Discover Global – 10 GB – 60 Days
10
60
7.03
70.31
Not included
🇰🇷 South Korea
🇰🇷 South Korea
Asia