Staying connected while traveling in France is essential for navigating new cities, sharing your experiences, and keeping in touch with loved ones.
One of the most convenient and cost-effective ways to do this is by using a prepaid SIM card designed specifically for France. In this article, we'll discuss some popular French prepaid SIM card options for travelers.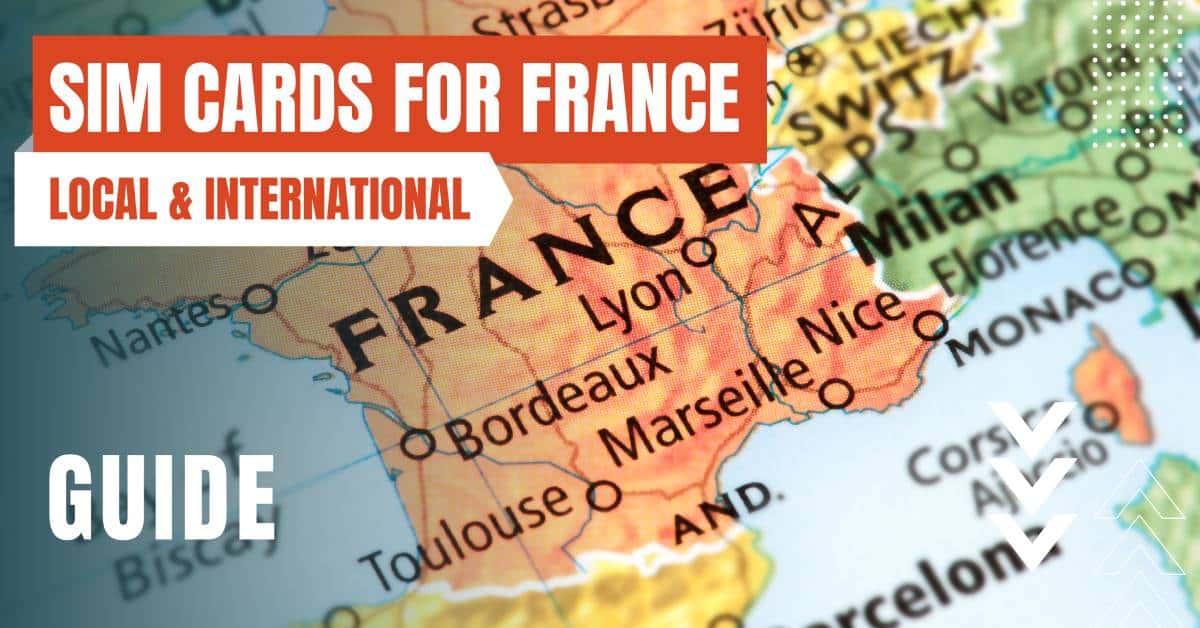 Best SIM Cards for France
Orange is the largest mobile network operator in France and offers a variety of prepaid SIM card options for travelers. Their "Orange Holiday" SIM card includes:
20GB of high-speed 4G data within France.
Unlimited calls and texts within France.
2 hours of international calls and 1,000 international texts.
Coverage throughout France, including popular tourist destinations.
SFR is another popular mobile network operator in France, providing prepaid SIM cards for travelers. Their "SFR La Carte" card features:
Various data, voice, and text allowance options, which can be customized based on your needs.
Coverage across France, including major cities and tourist areas.
International call and text options available as add-ons.
Bouygues Telecom is a leading mobile network operator in France that offers prepaid SIM cards for visitors. Their "Carte Prepayee" card includes:
A selection of data, voice, and text allowances that can be chosen based on your requirements.
Comprehensive coverage throughout France.
International call and text options available for purchase.
Free Mobile is a popular mobile network operator in France, known for its competitive rates and innovative plans. They offer prepaid SIM cards with:
A range of data, voice, and text allowances to suit your needs.
Nationwide coverage in France.
Options for international calls and texts.
Purchasing and Activating Your French Prepaid SIM Card
Upon arrival in France, you can purchase a prepaid SIM card at the airport, authorized retailers such as supermarkets, electronic stores, or mobile network operator shops. To activate your SIM card, you'll need to provide your passport as identification.
Once activated, you can top up your credit and purchase additional data packages as needed.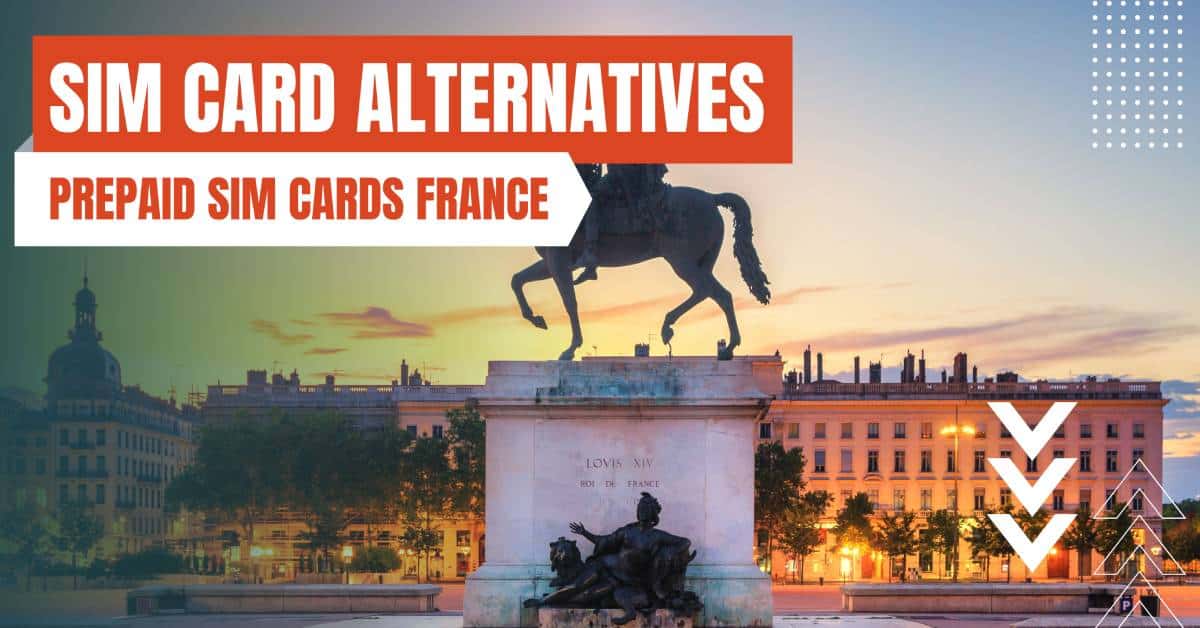 France SIM Card Alternatives
In addition to the French prepaid SIM card providers mentioned earlier, there are other alternatives to consider when looking for mobile connectivity options during your trip to France. These include international SIM cards, eSIMs, and portable Wi-Fi devices:
International SIM cards provide coverage in multiple countries, including France, and can be a convenient option if you plan to visit several destinations during your trip. Some popular international SIM card providers with coverage in France include:
OneSimCard: Offers voice, text, and data services with coverage in over 200 countries, including France.
WorldSIM: Provides a range of data, voice, and text plans with coverage in France and other European countries.
TravelSim: Offers international SIM cards with competitive rates for voice, text, and data services in France and other countries worldwide.
An eSIM (embedded SIM) is a digital SIM card that can be activated without the need for a physical card. eSIMs are compatible with newer smartphones and devices, such as the iPhone XS and later models, Google Pixel devices, and Samsung Galaxy S20 series, among others.
eSIMs offer a more flexible and convenient solution for travelers, as you can easily switch between plans and carriers without the need to replace a physical SIM card.
Some mobile network operators and eSIM providers offer plans with coverage in France, including:
Ubigi: Provides eSIM data plans for France and other European countries, with a range of data allowances and validity periods.
Truphone: Offers eSIM data plans for multiple countries, including France, with various data allowances and durations.
Portable Wi-Fi devices, also known as pocket Wi-Fi or MiFi, allow you to connect multiple devices to a mobile hotspot, providing internet access wherever you go. These devices can be rented or purchased and are a suitable alternative if your device is not compatible with local SIM cards or eSIMs. Some portable Wi-Fi providers that offer coverage in France include:
Travel Wi-Fi: Offers pocket Wi-Fi devices for rent, with coverage in France and other European countries.
My Webspot: Provides portable Wi-Fi devices for rent, with 4G coverage in France and other European destinations.
Skyroam: Offers portable Wi-Fi devices for purchase or rent, with coverage in France and over 130 countries worldwide.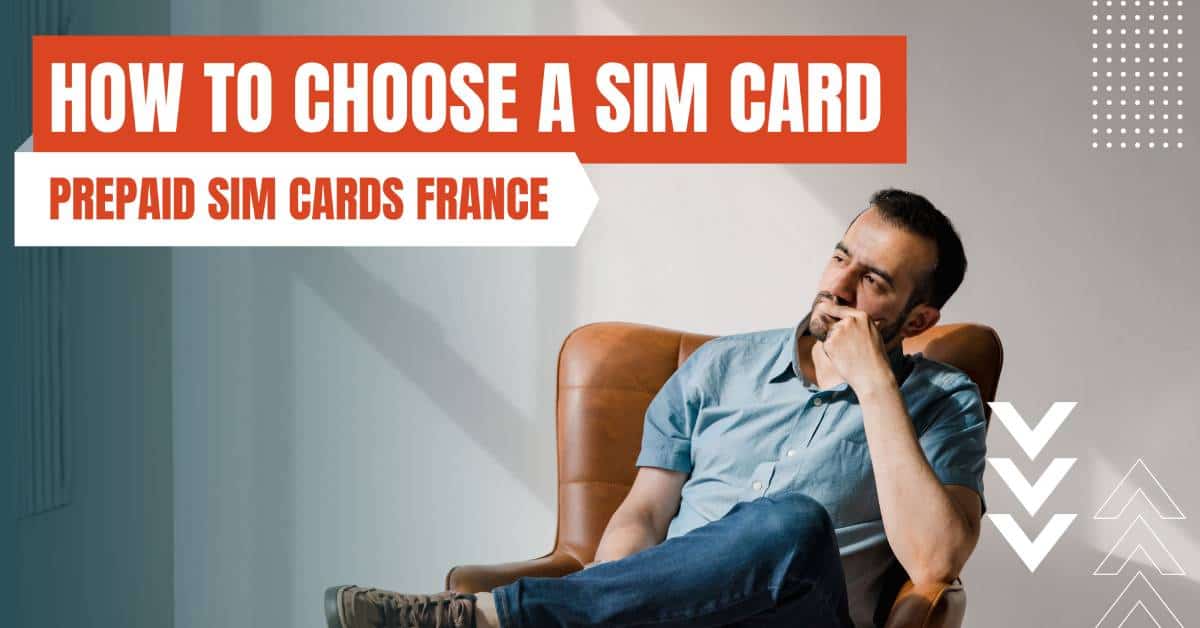 Tips for Choosing the Right Prepaid SIM Card for France
When selecting a prepaid SIM card for your trip to France, it's crucial to choose the option that best suits your communication needs and budget. Here are some tips to help you make an informed decision:
Consider your data usage habits and the type of activities you plan to do during your trip. Will you be using data for social media, streaming, or downloading? Choose a plan that offers an appropriate data allowance to accommodate your needs without overpaying for unused data.
Depending on your communication preferences, you may require a plan that includes local and international voice and text allowances. Evaluate how frequently you'll be making calls or sending texts and choose a plan that provides sufficient allowances for both local and international usage.
Research the network coverage of the various providers in the areas you plan to visit in France. Some providers may have better coverage in specific regions, so it's essential to select a SIM card from a provider that offers reliable coverage in the areas you'll be traveling to.
The length of your trip should also influence your choice of SIM card. Some providers offer plans with varying validity periods, so choose a plan that aligns with the duration of your stay in France.
If you plan to visit other countries during your trip, consider whether the SIM card offers international roaming options at reasonable rates. Some providers may offer special plans that cover multiple European countries, which can be more cost-effective than purchasing separate SIM cards for each destination.
Opt for a prepaid SIM card that offers convenient top-up options, such as online top-ups, in-store purchases, or top-up vouchers available at various retailers. This will ensure that you can easily recharge your SIM card when needed.
Make sure the SIM card you choose is compatible with your mobile device. Most providers offer SIM cards in different sizes (Standard, Micro, and Nano) to fit various devices, but it's essential to confirm the compatibility before purchasing.
Some SIM cards may require a straightforward activation process, while others might involve a more complex procedure. Choose a SIM card with a simple activation process to avoid any potential difficulties in getting connected.
Prepaid SIM cards offer a convenient way for international visitors to stay connected while exploring France.
With a variety of plans from providers such as Orange, SFR, Bouygues Telecom and Free Mobile, there are options to suit every traveler's needs.
By using a local prepaid SIM card during your trip to France, you can enjoy a more convenient and worry-free mobile experience while staying connected with your loved ones and exploring this beautiful country.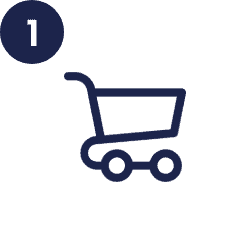 Compare e encontre o eSIM de viagem mais adequado para suas necessidades e adquira-o diretamente com o fornecedor.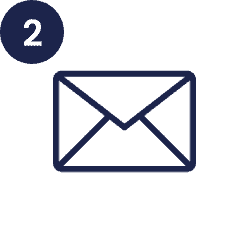 Receba o eSIM via e-mail/app
Você receberá o perfil eSIM dentro de alguns minutos em um e-mail separado ou poderá acessá-lo diretamente no aplicativo do provedor.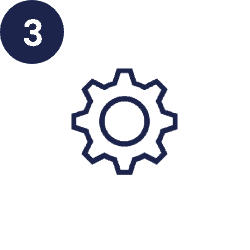 Digitalize o código eSIM QR no correio com a função de câmera de seu smartphone e siga as instruções na tela. O perfil será configurado automaticamente.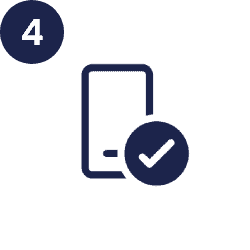 Roaming grátis no exterior
Agora você pode usar o eSIM no exterior! 
Pesquisar mais de 7200 planos de dados eSIM em mais de 210 países
Por que escolher um eSIM?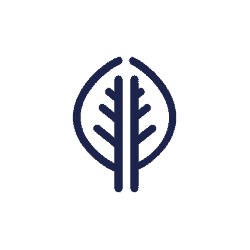 O eSIM funciona apenas digitalmente, por isso são utilizados menos recursos do que com o cartão SIM clássico.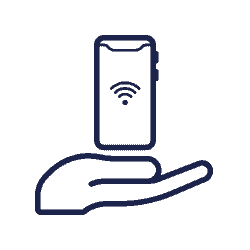 O novo eSIM pode ser facilmente carregado digitalmente para seu smartphone. É rápido e salva o ambiente.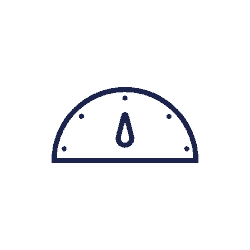 Seu perfil eSIM é enviado de forma fácil e conveniente por e-mail. Isto significa que você receberá seu eSIM digital muito mais rápido do que um cartão SIM físico pelo correio.